Portland: The Science Fiction Capital of America?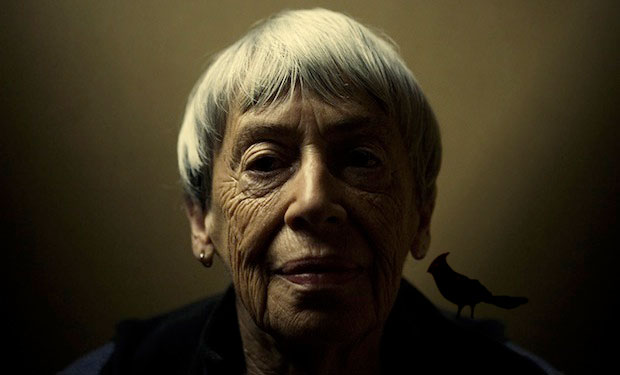 Posted by Claire Evans on
While Portlandia just taught us that Ronald D. Moore definitely doesn't live in Portland, that doesn't mean that the Rose City isn't the science fiction capitol of America.
Perhaps it's the woodsy gloom of our winter months—after all, we can't see the sky clearly for two-thirds of the year—that has us dreaming of the stars and beyond. Perhaps the high concentration of unabashed geeks, open-source developers, and tech-savvy residents of our so-called "silicon forest" has normalized Battlestar Galactica fandom and Trekkie nitpicking for all Portlanders. Or maybe we just have a lot of time on our hands.
In any case, the greater Northwest area is a veritable vortex of science fictional energy. Don't believe us? Please, we have the cred in spades. For one, Portland lays claim to the grand dame of science fiction and fantasy, the great Ursula K. Le Guin, who has lived in the Rose City, penning Hugo and Nebula award-winning novels since 1958. Frank Herbert, author of the formidable Dune series, cut his teeth writing for the Oregon Statesman Journal—and, little-known fact—found inspiration for the desert planet Dune while writing an article about the sand dunes of Florence, Oregon. These heads and countless of their brethren, are celebrated at the Science Fiction Hall of Fame, which, OK, fine…is in Seattle.
For lovers of the more macabre end of the spectrum, Portland's Hollywood Theater plays host yearly to the H.P. Lovecraft Film Festival and Cthulu Con, an event as amazingly improbable—how can there even be enough H.P. Lovecraft-inspired short films to populate a festival that grows yearly?—as its cousin institution, the Lovecraft Bar in SE Portland. Yeah, we have an H.P. Lovecraft bar, complete with tarot readings, sci-fi theme DJ sets, and horror movie nights.
Dark Horse Comics, the largest independent comic book and manga publisher in America, has been plying its particular breed of pulp wizardry from the Portland 'burb of Milwaukie since the 80s. Hottest selling titles? Buffy the Vampire Slayer, Star Wars, and Mass Effect comic book adaptations, as well as their own invention, Hellboy.
If all this is making you itch to pull the homemade Starship Enterprise costume out of your mom's closet, don't fear—you're not alone. Science fiction nerds in Portland ample opportunities to mingle. If not at the H.P. Lovecraft fest's "Mall of Cthulhu," then at OryCon, a convention that has been a staple event of the Oregon science fiction scene for 29 years, growing from a small, one-day symposium on the Portland State campus cobbled together by the then-nascent Portland Science Fiction Society (PorSFiS) in November of 1978, into an elaborate, highly-costumed affair with attendance numbering in the thousands.
John Lorentz, secretary of Oregon Science Fiction Conventions, Inc (OSFCI), the fan-run nonprofit that handles the dirty work of convention organizing, once told me that, "OryCon really has become the nexus of science fiction in Oregon. There are writer groups…gamers, costumers, artists and readers all over the state and many of them come to OryCon each fall. I've been amazed at how many people will hop in their car, and drive hundreds of miles to attend. Which…of course. With a "gaming room" well-stocked with men in Utilikilts rolling dice, and late nights of pagan ceremony and hearty rounds of Filking (trust me, you're gonna want to Google that), it's the place us Battlestar Galactica victims end up when there just isn't one moore episode to watch.