The Last-Minute Portlandia Holiday Gift Guide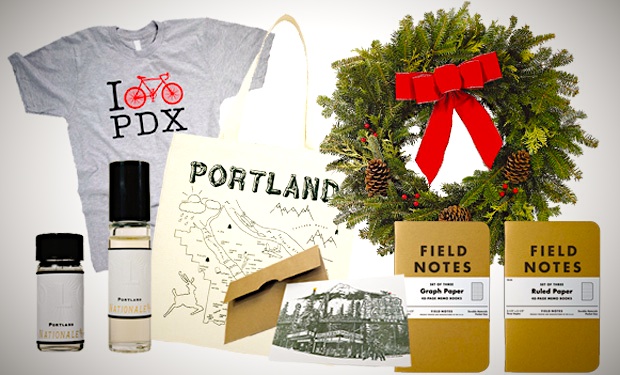 Posted by Claire Evans on
If we've learned anything from Portlandia, it's that mainstream stuff sucks. And that capitalism is only acceptable if it's used as a tool for supporting local artisans, fair-trade coffee mongers, and feminist bookstores. That said, it can be tricky to shop for a favorite Portlander—or aspiring Portlander—for the holidays, but fear not: we rounded up some Northwest essentials for your last-minute stocking stuffing. Ho ho ho…or whatever.
For Your Favorite Coffee Puritan
A Coava Coffee Kone. Once I went into Coava, a fantastic coffee shop in Portland's inner southeast neighborhood, and idly inquired about the roast I was to purchase. Twenty minutes later, I was a pseudo-expert on the appropriate levels of boric acid in the coffee plant's soil. These guys do not mess around with their beans; they're so committed to the perfect cup that they even designed and manufactured their own filter, the Coava Kone, out of laser-cut stainless steel. Basically, if you're not using one to make your brew, you're doing it wrong.
Stumptown Coffee Grand Cru Collection. Stumptown is the original, the company that put Portland coffee on the map. I needn't detail here their always-reliable blends, their innovative Direct Trade policy, or their indispensable iced coffee "stubbies," without which no summer in the Northwest is worth living. No caffeine aficionado will turn up their nose at Stumptown's "Grand Cru" collection, a sampler set of the company's "most coveted" coffees that comes complete with a stylish holiday mug.
For The Bookish Type
Locally-Printed Books from Publication Studio. Everyone knows about Powell's, the largest independent purveyor of books in the world. It's the jewel in our crown, proving indubitably that we're one of the great literary cities in America. But our legacy as book nerds of the highest order is only growing. Evidence: Publication Studio, a completely new model for a bookstore. Publication Studio is boutique publisher that literally prints books on demand from their tiny storefront downtown, on SW Ankeny street. You can walk up, order a book, or browse from their selection of curated tomes, which range from literary anthologies to a beautiful (and pocketable) edition of Walter Benjamin's Berlin Chronicle.
Field Notes Notebooks. Designed by local design icon Aaron Draplin, who mines classic American mid-century design and reinvents it as an impeccably type-set, beautifully minimal aesthetic, Field Notes Notebooks are a staple of the Portlander's back pocket. Show your state pride with special-edition Oregon notebooks, or go for the classic brown-cardboard version. Your favorite advocate of "real paper and pencils" will be stoked.
For The Advocate of Bicycle Rights
Hand-Sewn Leather Bicyle Track Drops. Ship your clean bicycle track drops to Draught Dry Goods, and they'll hand-stitch fancy vegetable-tanned leather around them, upgrading your daily bicycle commuter's look to downright classy. Like all fine things, the leather will age to rich golden brown with regular use.
PDX by Bike Zine. Designed to fit in your back pocket while you ride, this slim little zine is part tour-guide, part civic history book, and will bring you up to (ten) speed on Portland's unstoppable bike culture. Perfect paired with a gray "I Bike PDX" t-shirt," don't you think?
For The Portland Patriot
Hand-Letterpresed Portland Holiday Cards. It seems you can't throw a rock in PDX without hitting a letterpress shop. Pay homage to our fair city (and its hearty printing scene) with these beautiful, local-monument-heavy holiday cards handmade in a fancy old-timey manner by local printer by Beth Kerschen.
Portland Grocery Maptote. Ok, this guy isn't made locally, but we promise it's still handmade in the USA from organic cotton, so it's honorary Portland. Maptote makes a whole line of Portland paraphernalia emblazoned with charming wood-hewn letters and simple maps of the Rose City. Great for toting famer's market produce home on your bike—plus it doubles as emergency directions.
Bonus: For The Patchouli Victim in Your Life!
Olo Fragrances. Hand-blended in Portland by fragrance-mystic Heather Sielaff, Olo fragrances are unisex, woodsy, and ever-so-ethereal. Tell your hippie friend to ditch their Nag Champa for good and gift them a sampler kit of four of Olo's most popular scents, which have moody, epic names like "Victory Wolf" and "Dark Wave."