Characters
Michael Palin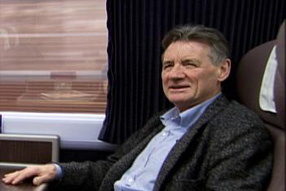 Michael Palin was born in Sheffield, went to Shrewsbury School and then to Oxford where he read history, performed in many comedy shows, and started working with fellow writer and performer Terry Jones.

After Oxford, Michael and Terry went on to write for various BBC comedy shows, notably The Frost Report and The Two Ronnies. In 1967, they teamed up with Eric Idle to write and perform the children's comedy series, Do Not Adjust Your Set.

In 1969 came Monty Python's Flying Circus, which firmly established Michael's comic reputation along with his five collaborators Graham Chapman, John Cleese, Terry Gilliam, Eric Idle and Terry Jones. This team made forty-five Python episodes and five feature films including Monty Python and The Holy Grail, Monty Python's Life of Brian and The Meaning of Life. At BAFTA, in 1987, the Monty Python team received the Michael Balcon Award for outstanding contribution to Cinema.

Michael's other feature film acting credits include Terry Gilliam's cult feature Brazil, Jabberwocky, The Missionary, which he wrote, Time Bandits, written with Terry Gilliam, American Friends, which he also co-wrote, A Private Function, A Fish Called Wanda, which won him a BAFTA Award for best supporting actor, and Fierce Creatures.

For television, Michael and Terry Jones wrote Tomkinson's Schooldays which led to the Ripping Yarns series. Amongst Michael's other television writing credits are the screenplays East of Ipswich and Number 27 for the BBC. In 1991, Michael played one of the leads in GBH, Alan Bleasdale's highly acclaimed series for Channel 4.

In 1994, his first stage play The Weekend was produced in the West End with Richard Wilson in the lead. A year later his best-selling novel Hemingway's Chair was published.

A self-confessed dromomaniac (travel addict), Michael contributed to two BBC series of Great Railway Journeys of the World, in 1980 and 1994. He also indulged his wanderlust in seven huge adventures for the BBC, Around the World in 80 Days (1989), Pole to Pole (1992,) Full Circle (1997), Hemingway Adventure (1999), Sahara (2002), Himalaya (2004) and New Europe (2007) which were enormously successful and award-winning television series, books and audios.

Michael's interest in art has led to his presenting four BBC documentaries, one on the painter Anne Redpath, Palin on Redpath (1997), the second on the Scottish Colourists, The Bright Side of Life (2000), and the third, on the extraordinary American art collectors, the Cone sisters, The Ladies who Loved Matisse (2003). His latest, on little known Danish artist Vilhelm Hammershoi, Michael Palin and the Mystery of Hammershoi was broadcast on BBC1 in 2005
The first volume of Michael's Diaries 1969 - 1979 - The Python Years were published in October 2006 by Weidenfeld & Nicolson.
In 2008 Michael added a new chapter to his book Around the World in 80 Days - this was published as a 20th Anniversary special edition. He also made a programme for BBC1 Around the World in Twenty Years - in which he re-visits Dubai and India.

Michael was made a CBE in the 2000 New Year's Honours List for services to television drama & travel. In 2002 he received the Lifetime Achievement Award at the British Comedy Awards and in 2005 Michael was given a BAFTA Special Award.
He lives in North London with his wife Helen and two cats.