About Monty Python: Almost the Truth (The Lawyers Cut)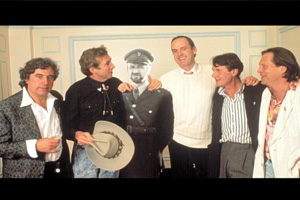 Legendary British comedy troupe Monty Python all gathered in front of the camera one last time in this original documentary series that retells the entire Python phenomenon start to finish.
The Monty Python troupe includes John Cleese, Terry Gilliam, Eric Idle, Terry Jones, Michael Palin and Graham Chapman. This six-part series features interviews with all the surviving Python members, along with archive representation for the late Graham Chapman. The Pythons tell their life story and reveal deeper truths alongside the more tried and tested Python history lessons. The documentary also features comedians and contemporaries including: Jimmy Fallon, Lorne Michaels, Hugh Hefner, Eddie Izzard, Olivia Harrison, Steven Merchant, Dan Aykroyd, Tim Roth and Seth Green, among many others.
"This is the documentary I always hoped would be made - something so complete and so faithful to the truth that I don't need to watch it," said Terry Jones.