Marc Maron Goes Off the Marc About Wearing Jeans in the Bathtub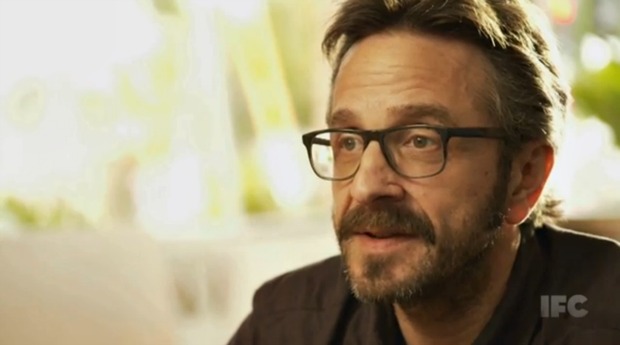 Posted by Melissa Locker on
On last Friday's episode of "Maron," this happened:
Anyone who read Marc Maron's memoir "Attempting Normal," may have recognized the scene. In the book, Maron talks about his pursuit to find a pair of pants that mimic the perfect pair he wore as a kid. He wrote, "When I was a kid and my mom bought me Levi's, they were stiff and uncomfortable for weeks. Then over time and multiple washings, they'd fade the way you wanted them to and start to contour themselves to your body. They became more than your pants. They were your skin. They grew with you."
In his quest, though, Marc found something else, "As I was lying in the tub with my new gray Levi's shrink-to-fit pants on, my natural feelings of desperation and stupidity were mixed with another emotion: Hope. My life had narrowed in this moment to one small, attainable purpose, the pursuit of perfect jeans, and I felt excited." But this being Marc, that moment of hope was just a pit stop on an emotional rollercoaster that quickly plummeted. Marc added, "I also felt empty. Was this what my life had become? Didn't I have better things to do? I was a 48-year-old man in a bathtub wearing pants, thinking I would be a better person for owning a pair of highly personalized jeans."
In this episode of "Off the Marc" Marc takes us back to that moment as well as when his now girlfriend moved to LA. Watch now and then tune in for a double dose of "Maron" including the season finale on Friday at 10/9c
video player loading
.
.
.
Want the latest news on "Maron"? Like the show on Facebook and follow us on Twitter@MaronIFC
The season finale of "Maron" airs on IFC on Friday at 10/9c