Check out the "Maron" soundtrack with Sharon Jones & the Dap-Kings, Hospitality and more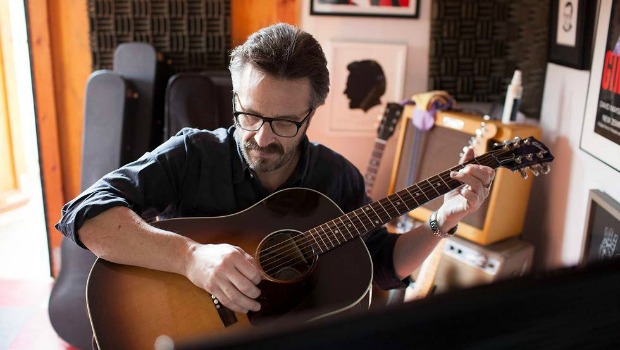 Stream the "Maron" soundtrack on White Iris TV.
Marc Maron is a lot of things: podcaster, comedian, cat rancher and music fan. When he's not listening to music, he's interviewing musicians for his WTF podcast and can frequently be found tweeting about bands he loves, a new record he's discovered or a song that everyone must hear all while wearing a Stooges t-shirt. Marc Maron is a music lover. So when it came time to think of a soundtrack for his new scripted comedy series "Maron," choosing the music was very important. So with the help of Black Iris Music and White Iris Records, a soundtrack was crafted. The songs are a bit LA-centric, which makes sense for Marc's life with local rockers (and IFC favorites) Fletcher C Johnson and NO making an appearance along with the blues-rock of Sharon Jones & The Dap-Kings, experimental pop of Ludwig Persik, Sugarman's Latin-tinged songs and the upbeat indie rock of Hospitality. It's a diverse, deep and funny mix, which, yes, sounds a lot like Marc.
The songs on the show have been collected on an album, which you can stream right now over at White Iris TV. The album will also be out on 6/18 on vinyl and available digitally, too. Check out the track lists here, go stream the album and then and tune in for a new episode of "Maron" on Friday at 10/9c:
1 . Fletcher C. Johnson "Messin' Up My Mind"
2 . Four on the Floor "Poisoned Well (Maron theme)"
3 . Line & Circle "Roman Ruins"
4 . El Sportivo & The Blooz "The Night's So Cold"
5 . Tyrone Ashley's Funky Music Machine "Come On Home"
6 . The Sugarman Three & Co. "Bosco's Blues"
7 . Dawn Landes "Heel Toe"
8 . NO "What's Your Name"
9 . El Sportivo & The Blooz "Breaks My Heart"
10 . Hospitality "Friends of Friends"
11 . Obits "Widow of My Dreams"
12 . Ludwig Persik "No Go"
13 . Sharon Jones & The Dap-Kings "Give Me a Chance"
Want the latest news on "Maron"? Like the show on Facebook and follow us on Twitter@MaronIFC
"Maron" airs on IFC on Fridays at 10/9c
Tags:
Fletcher C Johnson
,
Hospitality
,
Marc Maron
,
Maron
,
Music
,
no
---
---
---
Powered by ZergNet
---
You must be logged into Comment
Newest
Oldest
Most Replied
Most Liked
Comments( )