Characters
FRANKIE MUNIZ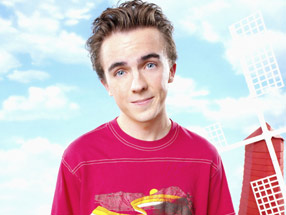 (Malcolm)

Frankie Muniz has made an indelible impression in the title role of the whip-smart "Malcolm" on Malcolm in the Middle. As a result, Muniz was nominated for his first Emmy Award® in 2001 for Lead Actor in a Comedy Series, and is a two-time Golden Globe® nominee for Best Performance by an Actor in a Television Series - Comedy or Musical. He also garnered a Hollywood Reporter Young Star Award for Young Actor/Performance in a Comedy TV Series.

Muniz is also making a name for himself in the film world. He appeared in the independent thriller Stay Alive with Jon Foster, Samaire Armstrong, Sophia Bush and Jimmi Simpson, and starred as James Bond's nephew, an American teenage spy, in the feature film Agent Cody Banks, reprising the role in the sequel, Agent Cody Banks 2. He also was the lead character in the film Big Fat Liar opposite Amanda Bynes. Muniz starred as "Willie Morris" in the acclaimed My Dog Skip and had a supporting role in the drama Deuces Wild starring Matt Dillon and Stephen Dorff. Muniz was heard in the animated film Racing Stripes, as the voice of an abandoned baby zebra, raised on a farm in Kentucky, who believes he is a race horse. Frankie's voice can also be heard in the cartoon The Fairly OddParents, as a guest voice on The Simpsons and in the feature-length web cartoon The Red Bison.

Muniz made his television debut in the made-for-television movie To Dance with Olivia starring Louis Gossett Jr. He also appeared in the Hallmark Hall of Fame presentation of What the Deaf Man Heard, for which he received a nomination for the Hollywood Reporter Young Star Award, as well as The Young Artist of Hollywood Award for Best Television Performance in a movie or miniseries.

Muniz also has appeared in several regional theatrical productions, including A Christmas Carol, The Sound of Music, The Wizard of Oz, Our Town and the critically acclaimed The Death of Poppa.

In the philanthropic realm, Muniz teamed with the California, Arizona, Nevada (CAN) Chapter of the Starlight Children's Foundation on a charity basketball tournament, "Frankie Muniz HoopLA," held in 2003 and 2004 to support the Foundation.