Characters
Warren the Ape DeMontague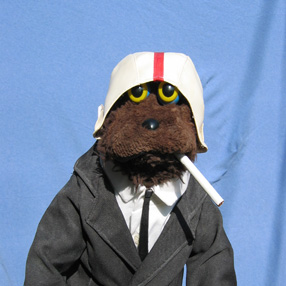 Warren "the Ape" DeMontague

Warren DeMontague is a classically trained thespian with a checkered and mysterious past. His origins change with every story he tells, but common threads indicate he grew up in a small English town called Wainscotting. Born with natural acting talent, Warren came to the States after minor success in all-Fabricated roadshow productions of Shakespeare and a brief run on a BBC radio drama, which ended promptly when "scandal" revealed his true identity as a puppet. This traumatic career event soured the Ape, and triggered his relationship with substance abuse and vice.

Warren has worked in children's theatre, biblical productions, nature documentaries, experimental film, soft-core porn, and several eclectic counterculture movies.

Warren is best known for appearances in 60s and 70s British cult films, ranging from all-puppet exploitation and horror (some with fellow actor Frederick Blah) to the early works of Mike Leigh, John Boorman and Mike Hodges. As the "token puppet" in London's bad-boy elite social circles, tabloids have scrambled to break stories on his fabled breakup with Twiggy Lawson and his weeklong binges with David Hemmings and Michael Caine.

Emerging from a dramatic breakup with his on-again/off-again partner of ten years, former "Miss New Hampshire 1982," Maggie DeMontague--a human trophy wife of questionable morals and even more questionable breasts-- Warren is near bankruptcy and living with former sitcom co-star Greg the Bunny. Fresh from his latest stint at recovery from alchoholism, Warren has placed much of his personal angst into a screenplay entitled "Postcards from the Shitstorm" (working title) which he is currently developing (with the help of his agent, Pal Friendlies) into an independent feature.