Oldies but Goodies
10 Sassy Grandmas We Can't Get Enough Of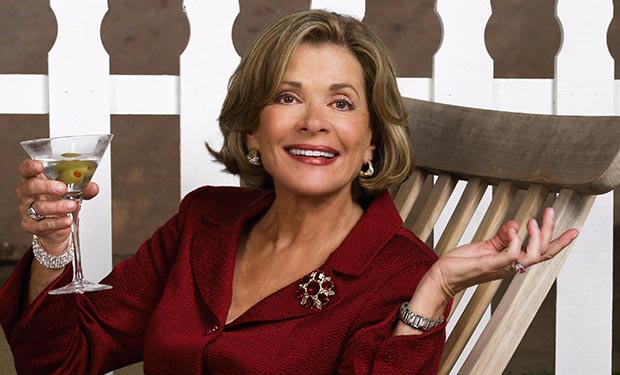 Posted by Nick Romano on
If you're like us, you prefer your pop culture grandmas with a healthy side of sass. So we can't wait until you get to meet Gigi Rotblum, the hilariously raunchy senior citizen who is the star of the new IFC series Gigi Does It.
Actor/cocreator David Krumholtz is behind Gigi (yes, that's Krumholtz under all that makeup), a retiree who gets a new lease on life after inheriting a fortune from her late husband. Exploring everything from art to porn, Gigi is set to take her place amongst the ranks of so-crazy-you-gotta-love-them grandmas. In honor of National Grandparents Day, check out our tribute to some of the most outrageous grandmas in pop culture.
1. Gigi, Gigi Does It
video player loading
.
.
.
Gigi is a 76-year-old yenta. She may have lost her beloved husband, but she's ready to take life by the cojones. Armed with a secret bank account filled with money her late hubby left to her, Gigi gets into all kinds of shenanigans. Many of which involve stuffing dollar bills into "banana hammocks."
---
2. Lucille Bluth, Arrested Development
Lucille drinks martinis like they're water, and mistakes the warning label on her son's medication for a winking eye alcohol suggestion on her own bottle of meds. So, yeah, she's been around the block and back a few times. The matriarch of the Bluth family may not be the warmest parental figure, but she's certainly quotable. We're just glad she's not our mother.
---
3. Grace, Grace & Frankie
Grace and Frankie are relative newcomers to the "sassy grandma" clan, coming to us from their Netflix original series. While Frankie, played by Lily Tomlin, isn't technically a grandmother, Grace is the real deal. It's one thing to have Jane Fonda as a grandmother, but she's even cooler because her husband left her to be with another man and it's propelled her into a new, exciting life. Grace and Gigi should get together to peruse some art or hit a nightclub and cruise for a new boy toy.
---
4. Grandma Fa, Mulan

The grandmother of the Fa family in Disney's animated classic is either super eccentric or super senile. Either way, she's delightful. In most families, walking into on-coming traffic with nothing for protection but a caged cricket would get granny landed in a home, but you couldn't put Grandma Fa in a home if you tried. Not when she has a cricket as her secret weapon.
---
5. Elle Reid, Grandma
With the indie dramedy Grandma, it's as if director Paul Weitz asked Lily Tomlin to just be her kooky, lovable self. The actress is a firecracker as Elle Reid, who is the kind of woman who cuts her credit cards up into little pieces to make a wind chime or who bestows copies of the Feminine Mystique to wanting souls. She's the kind of woman we want as a grandma.
---
6. Sophia Petrillo, Golden Girls
Golden Girls favorite Sophia Petrillo was the original sassy grandma. All bow down to her greatest. Played by actress Estelle Getty, she was extremely close with her daughter Dororthy (Bea Arthur)…sometimes too close for comfort. But you could always count on Sophia's bluntness when it came time to take Blanche down a peg or make sense of one of Rose's rambling St. Olaf stories.
---
7. Mable "Madea" Simmons, Tyler Perry's Madea movies
Tyler Perry's Madea has been a hit with audiences because like all great sassy grandmas she says what we're all thinking but too timid to admit in mixed company. Swift with a one-liner or a slap, Madea isn't afraid to drop the class act when her family is threatened, whether that's from other family members or disreputable women like that Brenda character.
---
8. Lady Olenna, Game of Thrones
Even the royals of Westeros have their version of the sassy grandmother. That would be Lady Olenna (Diana Rigg), and there's a reason why they call her the Queen of Thorns. The Internet had a field day when her Royalness breathed in the air of King's Landing, and exclaimed, "You can smell the sh– from five miles away!" From then on, the land was made brighter by her presence.
---
9. Emily Gilmore, Gilmore Girls
You do not mess with Emily Gilmore (Kelly Bishop). Lorelai (Lauren Graham) may find her mother difficult to deal with at times, but there's no one you would rather have in your corner than this sharp-tongued Connecticut blue blood. Case and point, that time Emily put snooty Shira Huntzberger in her place. The mother of Rory's then boyfriend Logan wasn't too pleased with who her son was dating, but that outward aggression ended when Emily used a string of eloquently phrased words to crumble her rival's ego down to nothing.
---
10. Violet Crawley, Downton Abbey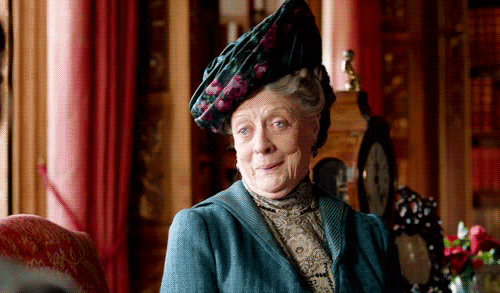 Downton Abbey has earned acclaim for its gripping depiction of genteel British society. But Dowager Countess Violet Crawley, played by the legendary Maggie Smith, brings a much-needed attitude to the otherwise dramatic series. We can only imagine how Violet would react to Gigi's racy tongue.