Do It for Grandma
David Krumholtz Talks About Channeling His Grandma For Gigi Does It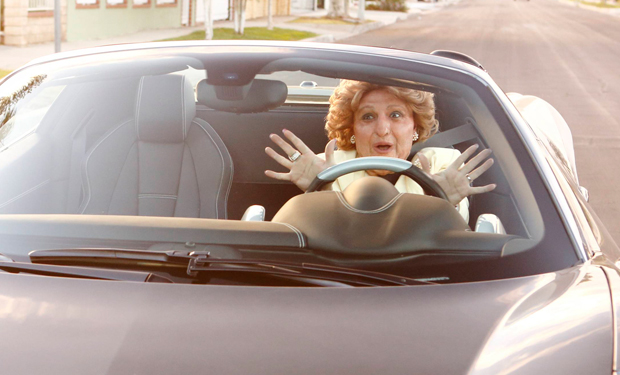 Posted by Melissa Locker on
In IFC's new comedy Gigi Does It, actor/writer/executive producer David Krumholtz plays Gertrude "Gigi" Rotblum, a newly widowed senior who discovers a massive bank account left to her by her late husband. Instead of blowing her newfound dough on mahjong sets and early bird specials at the Sizzler, Gigi hits the road to discover all that life has to offer. (This includes everything from ice skating to posing nude for an art class.)
As Krumholtz told critics at the annual Television Critics Association gathering, the first time he looked in the mirror in character as "Gigi," it was overwhelming.
It wasn't just because he was wearing the fake hair and prosthetic makeup that requires four-and-a-half hours to apply in order to play a 77-year-old widow, but for a deeply personal reason. "My grandmother had passed away," as explained Krumholtz to Deadline. "When the makeup finally came together and I put the wig on, what surprised me was I looked like her. She was back, in a way, and my reaction was to get a little teary-eyed. It was overwhelming."
Krumholtz added that he carries a bit of his grandma — and Gigi — with him, adding, "It's hard to drop her at the end of the day when they take off the makeup."
Now that the shock has worn off, Krumholtz uses his granny costume to its full advantage: "People have helped me up from the couch," he said.
Watch a clip of Krumholtz as Gigi below, and be sure to catch the premiere on Thursday, October 1st at 10:30P on IFC.
video player loading
.
.
.