You're Fired
10 Band Members Who Got Axed Before the Band Blew Up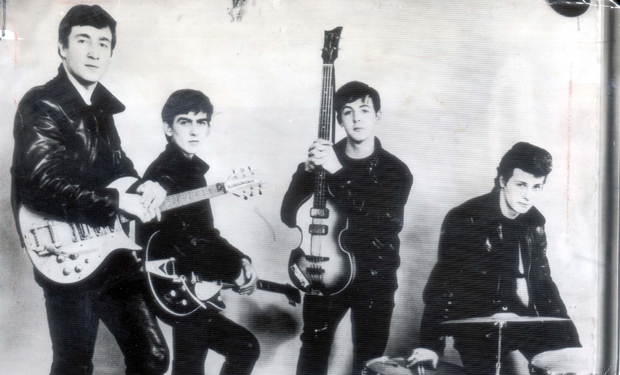 Posted by K Thor Jensen on
Did you know that Garfunkel and Oates was once a trio? Find out more on this tonight's episode, but prep first by getting acquainted with these musicians who got booted from their bands before fame came calling.
10. Chad Channing, Nirvana
Before future Foo Fighter Dave Grohl joined the group, drums for grunge pioneers Nirvana were handled by Chad Channing, who made a bundle from his playing on Bleach once the band got big.

---
9. Tracii Guns, Guns 'N Roses
One of the most successful metal bands of all time was named after its two founding members, Axl Rose and Tracii Guns – until Axl got pissed at Tracii for missing a rehearsal and kicked him to the curb.

---
8. Vini Lopez, The E Street Band
Before Bruce Springsteen was The Boss, his band was called "Steel Mill" and Vini Lopez played the drums. In 1974, Lopez accused Springsteen's manager of stealing from him and was unceremoniously ejected from the E Street Band.

---
7. Dave Evans, AC/DC
Evans was the vocalist for Australia's heaviest band from their formation in 1973, but Malcolm and Angus Young thought he was a little too glam so they replaced him with Bon Scott. Evans holds that he was given the axe because he was more popular with the ladies than Malcolm Young.

---
6. Pete Best, The Beatles
Several men have competed for the title of "fifth Beatle," but drummer Pete Best holds the most legit claim. He jammed with the band during their Hamburg days, but when the Fab Four got a record deal they sacked Best.

5. Doug Hopkins, Gin Blossoms
90s wimp-rockers the Gin Blossoms had a smash hit with "Hey Jealousy," which was written by guitarist Doug Hopkins. The same Doug Hopkins who was fired from the band because he was so drunk recording the song that he couldn't stand up straight.

---
4. Chuck Mosley, Faith No More
Mike Patton's acrobatic voice is one of the instruments that made San Francisco alt-metal-funk band Faith No More famous, but their first two platters featured the less spectacular Chuck Mosley. Fun fact: Courtney Love even sang for them for a bit.

3. Henry Padovani, The Police
Guitarist Henry Padovani played on the Police's very first single, "Fall Out," but Sting was so nonplussed by the Corsican axeman's lack of skills that he turfed him immediately for Andy Summers.

---
2. Jack Irons, Red Hot Chili Peppers
Drummer Irons couldn't hang with the hard partying and heavy drug use of the Peppers, so left the band in 1988. They'd sign to a major label the next year and have a gargantuan hit with "Give It Away" soon after.

---
1. Paul D'Anno, Iron Maiden
Maiden fans are intensely loyal to singer Bruce Dickinson, but the British heavy metal act's first two records featured vox by Paul D'Anno, who got booted before The Number of the Beast hit Number 1 on the charts.