Kate and Riki Talk About Their Hall & Oates Strip Tease on Late Night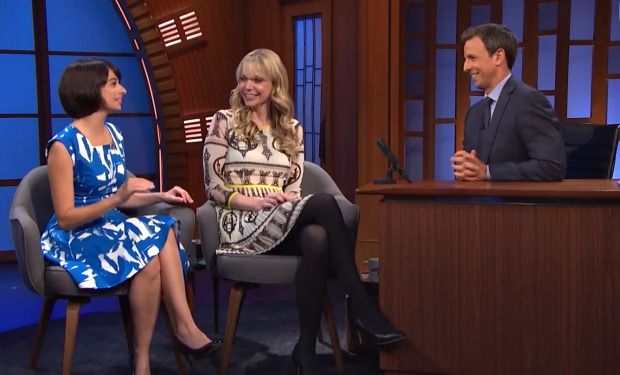 Posted by Melissa Locker on
Kate Micucci and Riki Lindhome stopped by Late Night With Seth Meyers last night to talk about three of everyone's favorite things: John Oates, making new friends and Garfunkel and Oates.
The dynamic comedy folk duo behind IFC's latest comedy told Seth about the idea behind Garfunkel and Oates, the thoughtful role they came up with to thank John Oates for letting them use his name, how bad dates can lead to great songs and how their relationship evolved thanks to the triumvirate of awesomeness: California Pizza Kitchen, MySpace and YouTube.
The duo also performed "Pregnant Women Are Smug." Watch now and tune in for a new episode of Garfunkel and Oates on Thursday at 10p:

Want the latest news from IFC? Like us on Facebook and follow us on Twitter@IFC Get all the Garfunkel & Oates updates on their Facebook page.
Garfunkel and Oates airs on IFC on Thursdays at 10p