Garfunkel and Oates Quiz & Recap: Ep.1 – The Fadeaway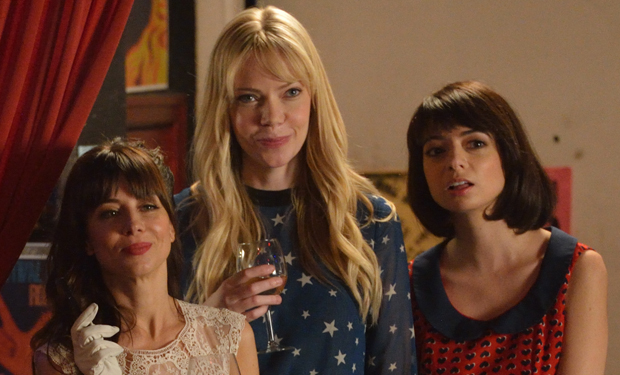 Posted by Melissa Locker on
Want to test your knowledge of Garfunkel and Oates? Take our Episode 1 Quiz!
If you missed the Garfunkel and Oates premiere last night, here are some GIFs to bring you up to speed. You can also watch the full episode now on IFC.com.
Oh deer:
Their better brie a gouda reason for so many cheese puns:
Self-awareness is the first step to adulthood:
Oh good, we've been doing it right:
Want to test your deep knowledge of Garfunkel & Oates? Take our quiz here.
Here are some of our favorite tweets from last night's watchathon:
not to brag, but @katemicucci and I have intense on-screen chemistry on tonight's #GarfunkelAndOates 10pm IFC

— Steve Agee (@steveagee) August 7, 2014
So excited to watch @garfunkeloates new show premiering on @IFC August 7! Can't wait! http://t.co/VAJslRMfZU

— Dan Savage (@fakedansavage) August 5, 2014
Remember that time we bought a green pepper? We were so optimistic. #garfunkelandoates

— Tiera Powers (@tierasaurus) August 4, 2014
Thank you guys for making our premiere night so awesome. We are drinking champagne and feeling very grateful.

— Garfunkel and Oates (@garfunkeloates) August 8, 2014
"My self esteem's not low enough to date you." #garfunkelandoates

— Amaris Leslie (@leslielovess) August 4, 2014
Want the latest news from IFC? Like us on Facebook and follow us on Twitter@IFC Get all the Garfunkel & Oates updates on their Facebook page.
Garfunkel and Oates airs on IFC on Thursday, August 7 at 10p