Characters
Judd Apatow – Executive Producer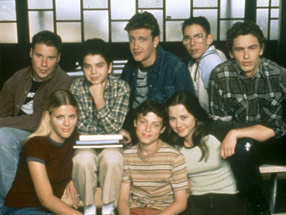 One of the entertainment industry's most prolific young writer/producers, Judd Apatow has compiled an impressive list of credits in his 12 years as a Hollywood scribe. Winner of an Emmy Award for "The Ben Stiller Show," and a five-time nominee for "The Larry Sanders Show," Apatow now brings his unique comic perspective to the daily grind of high school life, with "Freaks and Geeks." "Hopefully this series will show what high school was like for the rest of us," says Apatow.

Born in Syosset, New York, Apatow became obsessed with the Marx Brothers at age 8, and after watching the early days of NBC's "Saturday Night Live," he aspired to become a professional comedian. In high school, Apatow created a radio show for the school station, where he would interview comedians who performed at the local clubs. "It was really just an excuse to talk to comedians and ask how they did it," admits Apatow. He interviewed famous comedians like Steve Allen and Harry Anderson, as well as "unknowns" like Jay Leno, Jerry Seinfeld and Paul Reiser. During the end of his senior year in high school, he began doing stand-up comedy at clubs as well.

After dropping-out of film school at University of Southern California, Apatow continued his career as a stand-up comedian and began writing jokes and producing for other comedians, including Roseanne, Tom Arnold, Garry Shandling and Jim Carrey. Ironically, Carrey provided inspiration for Apatow to give up stand-up. "When I saw Carrey perform, I realized I would never be that good," says Apatow. His last performance came on the "HBO Young Comedians Special" in 1992. Apatow also co-produced HBO specials for Roseanne, Tom Arnold and Colin Quinn, and a Showtime special, "Jim Carrey's Unnatural Act."

In his first series as a co-creator and executive producer, Apatow found success right away. The satirical comedy series "The Ben Stiller Show" was cancelled after 12 episodes, but, months after its cancellation was recognized by the Television Academy with an Emmy Award for Outstanding Individual Achievement in Writing in a Variety or Music Program. Fresh from his Emmy win, Apatow joined "The Larry Sanders Show" in 1993 as a writer and consulting producer, and later became the co-executive producer for the show's final season. Apatow also served as a consulting producer on the animated series "The Critic."

A talented screenwriter/producer whose television work is often critically praised before being prematurely canceled, Judd Apatow has a dedicated fan base that has nevertheless continued to grow thanks to such winning efforts as The Ben Stiller Show and Freaks and Geeks. Work on a high-school radio show offered the showbiz hopeful his first taste of success, and in the years following his high-school graduation, the quick-witted aspiring standup comedian hit the comedy circuit to generally positive notice. Apatow's act eventually became a staple of FOX's Comic Strip Live, and when the series was canceled in 1994, he opted to shift his focus toward writing and producing. Though he had already achieved some amount of notoriety as a result of his involvement with such efforts as The Larry Sanders Show and The Ben Stiller Show, Apatow began to move into feature territory as the writer and executive producer of Heavyweights and Celtic Pride. Though neither film proved a hit at the box office, they did find a healthy second wind on home video, and Apatow's next endeavor as a producer was the widely panned Jim Carrey film The Cable Guy. Directed by friend and frequent collaborator Ben Stiller, The Cable Guy offered a pointed satire on media influence with Carrey's dark, disturbing performance deviating about as far from the antics of Ace Ventura: Pet Detective as one could get. Once again, Apatow's vision was simply ahead of its time, and it wasn't until The Cable Guy hit home video that the filmgoing masses were truly able to digest the warped masterpiece. When Freaks and Geeks hit the air in 1999, it appeared as if Apatow finally had a hit on his hands. A funny, touching, and endearingly realistic take on high-school life among the less popular set, the show was quickly canceled and never afforded the chance to find an audience thanks to overzealous network executives. Apatow's next series, Undeclared (essentially Freaks and Geeks goes to college), fared only moderately better, with 16 episodes aired before the plug was pulled. In 2003, Apatow served as producer for the made-for-television feature Life on Parole, and shortly thereafter, he returned to feature-film territory as the producer of the throwback Will Ferrell comedy Anchorman (2004). By this point it was only logical that the increasingly-prolific writer/producer would try his hand at writing directing a feature film, and after penning the 2005 Jim Carrey comedy Fun with Dick and Jane, Apatow seemed to find the ideal collaborator in the form of wildly unpredictable Daily Show correspondent Steve Carell; their work together ultimately yielding the suprisingly endearing 2005 comedy hit The 40 Year Old Virgin. A brief return to the producer's chair found Apatow teaming with former Freaks and Geeks co-hort Jake Kasdan for the 2006 comedy The TV Set, and after joining Will Ferrell and company for a side-splitting trip to the racetrack as producer of Talladega Nights: The Ballad of Ricky Bobby, the busy multi-hyphenate would take on triple duty by writing, producing, and directing the 2007 comedy Knocked Up - a one-night-stand laugher that featured a number of Apatow's old small-screen cast members including Freaks and Geeks' Seth Rogen, Martin Starr, Jason Segel, and Undeclared's Jay Baruchel.

Apatow's work on the big screen includes "Funny People", "Superbad", Knocked Up", re-writes on Adam Sandler's "The Wedding Singer" and "Happy Gilmore," Jim Carrey's "Liar, Liar," and "The Cable Guy," (in which he also served as a producer), as well as executive producing and co-writing credits on the films "Heavyweights" and "Celtic Pride."

Apatow lives in Los Angeles, California with his wife, actress Leslie Mann, and their daughter, Maude. His birthday is December 6.