Characters
Joe Flaherty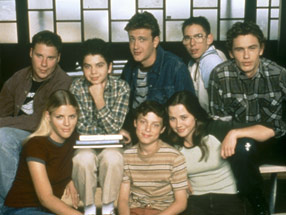 One of the original members of the legendary "SCTV" comedy troupe, Joe Flaherty adds another oddball character to his repertoire with Harold Weir, the overbearing father of Sam and Lindsay. Harold's idea of fatherly advice is to scare his kids with over-exaggerated stories about awful things that happen to people who do wrong.

"Harold thinks he is being a good father, but you can tell he is too tired and overworked to really spend time on the kids' problems," says Flaherty. "He just gets right to the heart of the matter with these incredibly over-the-top stories."

Flaherty, who received two Emmy Awards for his work on "SCTV," began his acting career as a teenager doing children's theater at the Pittsburgh Playhouse. After a four-year stint in the Air Force, Flaherty returned home at age 21 to pursue a career as a draftsman, but again gravitated towards performing. His theater work in Pittsburgh earned him a job offer in Chicago, Illinois with The Second City group where Flaherty, along with Harold Ramis and John Candy, helped define Second City's next generation. After performing in and directing several revues in Chicago, Illinois and Toronto, Canada, Flaherty left Second City to work on the National Lampoon Show. He later returned to Second City to do "SCTV," which gained him notoriety for such characters as Count Floyd, Guy Caballero, Sammy Maudlin and others.

Flaherty has appeared in dozens of films, most notably, "1941," "Stripes," "Used Cars," "Back to the Future, Part II," "Happy Gilmore" and "Waiting For Guffman," among others. His role in the film "Looking For Miracles" also brought Flaherty Canada's Gemini Award for Best Actor in a Drama. In addition to his work on "SCTV," his television credits include comedic roles in "Dream On," "Ellen" and a series regular on "Police Academy," among others. He also wrote, directed and starred in the series "Maniac Mansion" and produced, wrote and starred in "Really Weird Tales."

Flaherty now shares his time between homes in Los Angeles, California and Hamilton, Canada. Born and raised in Pittsburgh, Pennsylvania he is a devoted fan of the city's sports teams, and also considers himself an opera buff. His birthday is June 21.