Characters
James Franco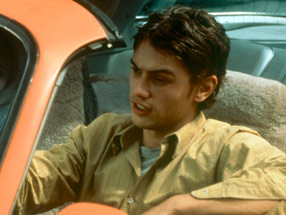 In 1998, after 15 months of intensive study at Robert Carnegie's Playhouse West, James Franco began actively pursuing his dream of finding work as an actor in Hollywood, California. In that short time, he's landed himself a starring role in "Freaks and Geeks" as Daniel, the nihilistic burn-out who takes life for a ride.

"In this role my character has a deeper than average perspective on life because of his tumultuous family background," says Franco. "But instead of trying to change his surroundings like Lindsay, he accepts them with a grin of sarcasm. He's the type of guy who can't conceive of living past 30, so why not live the way he wants to now."

Prior to joining "Freaks and Geeks," Franco starred in the TV miniseries "Family Shield" and co-starred opposite Drew Barrymore in the film hit "Never Been Kissed." During the summer of 1999, he starred in the Phoenix/Sony feature film "I'll Be You." In this modern day twist on Cyrano de Bergerac, Franco plays a popular high school jock Chris, who exchanges services with fellow student Ryan to woo Ryan's best friend, Maggie.

Well known for his works as teen heartthrob on the NBC series Freaks and Geeks and films like Never Been Kissed (1999) starring Drew Barrymore, James Franco has the dark, refined looks of a classic movie star. Indeed, he was cast in the TNT film James Dean playing the screen legend himself, for which he won a Golden Globe Award for his performance in 2002.

Born on April 19, 1978, Franco has lived in California throughout his life. After high school, he studied acting intensely under Robert Carnegie, Jeff Goldblum, and Tony Savant. He also spent time training at the Playhouse West in North Hollywood. Soon after landing the role as dark and pessimistic Daniel on Freaks and Geeks, where the teenage crowd found his performance accessible and realistic, Franco would earn a series of roles in teen-oriented motion pictures. Along with Never Been Kissed, he appeared in Whatever It Takes, on the set of which he met girlfriend Marla Sokoloff, a fellow actor. In a film about a group of "bad" students called Mean People Suck (2000), Franco appeared in the role of Casey, and then starred in Blind Spot in 2001. After retaining heartthrob status with his award-winning performance as James Dean, he would appear in Deuces Wild (2002), a '50s-style gang drama. That same year, he played the part of Harry Osborn in the live-action rendition of Stan Lee's superhero comic Spider Man, also starring Tobey Maguire, Willem Defoe, and Kirsten Dunst. The following year would find an emerging Franco in his most dramatically challenging role to date, as a murder suspect who happens to be the son of an NYPD police detective (Robert DeNiro) in City by the Sea. Impressed by Franco's turn as film legend James Dean, DeNiro personally lobbied to have Franco cast in the film. Franco would continue to work with talented collaborators, landing a role in Robert Altman's ballet movie The Company in 2003. He returned to the role of Harry Osbourn in Spider-Man 2 a year after that. 2005 was a busy year for the young actor who directed an adaptation of his own play, The Ape, and starred in a couple of historical dramas. Neither The Great Raid nor Tristan & Isolde made much of an impression with audiences, but the films showed an actor willing to try new things. He was back in theaters early in 2006 with the Naval Academy/boxing movie Annapolis. That fall he again appeared in theaters in the World War 1 drama Flyboys, directed by Tony Bill. He also agreed to reprise the role of Harry Osborn one more time in Spider-Man 3.

Recently Franco has starred in "Milk", "Howl" and directed a documentary film about the sketch comedy program "Saturday Night Live".