10 Reasons Why Orange County Is an Underrated Comedy Classic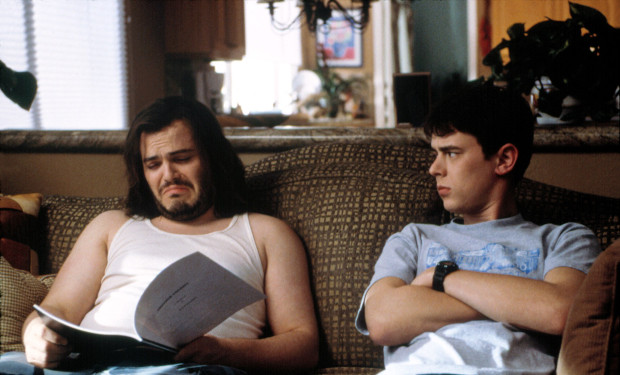 Catch Orange County star Colin Hanks on Comedy Bang! Bang! Friday at 11P.
Released during the heyday of American Pies, Road Trips, and Van Wilders, the 2002 film Orange County flew under the high school sex-romp radar when it was released. Written by future Enlightened co-creator Mike White and directed by frequent Freaks and Geeks collaborator and Walk Hard: The Dewey Cox Story helmer Jake Kasdan, the movie has a darker, almost-bleak undercurrent running throughout, one that stands in stark contrast with the booze-filled house party atmospheres of the other teen flicks from its time. And because it's often left out from conversations about worthy high school comedies, it's about time we all revisit Orange County and discover why it should be listed alongside venerable favorites like The Breakfast Club, Fast Times at Ridgemont High, and Clueless.
But if you're unconvinced, here are 10 reasons why Orange County is an underrated gem of a movie.
10. Mike White (School of Rock) wrote it.
Coming off an Independent Spirit Award win for Chuck & Buck, screenwriter Mike White knows a thing or two about crafting flawed, neurotic characters that audiences can root for. With a funny, relatable pathos that's very reminiscent of Freaks and Geeks, White's style is deeper than candy-coated fluff but still very fun to watch.
---
9. Colin Hanks proves he got his dad's chops.
Like the siren song of an old Bosom Buddies episode, there's just something about a young, frantic Hanks on screen that's so eminently watchable. Confirming that his dad passed down his charisma gene, Colin plays Shaun Brumder, a very likable and believable character that is far more three-dimensional than your typical high school movie lead.
---
8. It's a movie for the fringe.
Orange County follows a young writer's pursuit of getting into Stanford so he could become like the author who changed his life. There are no subplots of pining for the unattainably cute girl, scrambling to lose one's virginity, or planning the ultimate keg party. Shaun is meant to be relatable to the bookworms, art snobs, and A.V. geeks who were trying to hone their craft and creative obsessions in order to be like their idols.
---
7. The parents in this movie are truly awful, narcissistic people.
There's no trace of a Paul Dooley or a Mr. or Mrs. Bueller in a parental role here. Shaun's mom and dad, as well as the other parents in this movie, are deeply troubled, self-centered individuals who clearly should've never had kids. And it's in their imperfections and inability to offer guidance that makes Shaun's plight more difficult and empathetic.
---
6. Schuyler Fisk plays a character you don't often see.
Colin Hanks isn't the only one who inherited a parent's best qualities. Displaying the same natural grace and sweetness as her mother, Sissy Spacek's daughter Schuyler Fisk plays Shaun's girlfriend Ashley and isn't the prototypical ditzy side character. She feels very real not only as a high school sweetheart but also as the only thing in Shaun's life that isn't a living nightmare.
Pages: 1 2
Tags:
Colin Hanks
,
Jack Black
,
lists
,
Orange County
---
---
---
Powered by ZergNet
---