Garfunkel and Oates Make Scary Good Music with Reggie Watts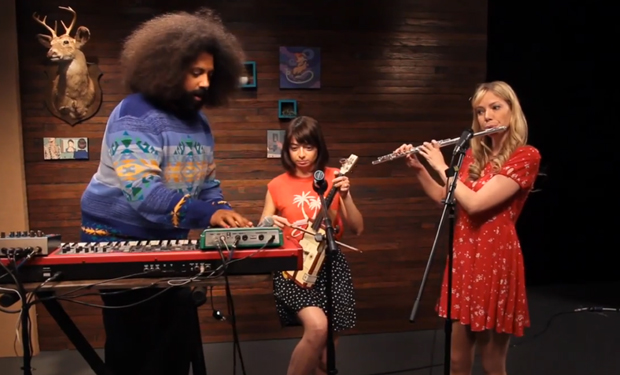 Whether it's a song in Fiddler on the Roof, The Millionaire Matchmaker or Match.com, people everywhere are looking for a match.
Now that this season of Garfunkel and Oates is over, Kate Micucci and Riki Lindhome have time to swing by the set of Comedy Bang! Bang! to make music with Reggie Watts and it's a match made in IFC heaven. Reggie brought the beats and set the tone with Riki bringing the rock flute and Kate playing a …homemade ukelele? miniature violin-guitar thing? It doesn't matter what instrument she's playing, because when these three are in the room, it's game, set, match.
Want the latest news from Comedy Bang! Bang!? Like them on Facebook and follow them on Twitter@comedybangbang and use the hashtag #cbbtv.
Comedy Bang! Bang! airs on IFC on Fridays at 11p
Tags:
Comedy Bang! Bang!
,
Garfunkel and Oates
,
Kate Micucci
,
Reggie Makes Music
,
Reggie Watts
,
Riki Lindhome
---
---
---
Powered by ZergNet
---
You must be logged into Comment
Newest
Oldest
Most Replied
Most Liked
Comments( )