Interpol + SNL + Comedy Bang! Bang! = Podcast Gold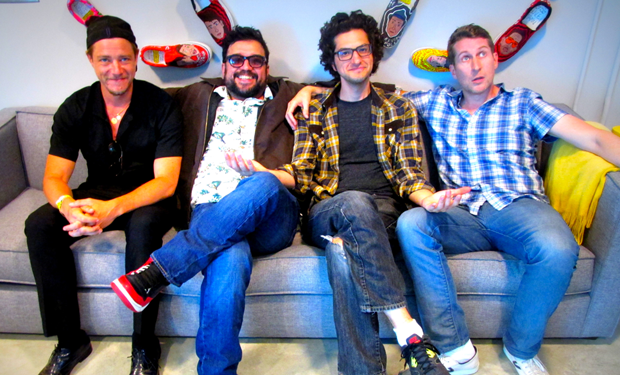 Comedy Bang! Bang! returns to IFC at a brand new day/time: Friday, Oct. 17 11p.
Comedy Bang! Bang!'s latest podcast was all about the music, so Scott Aukerman brought in an expert — Interpol frontman Paul Banks, who stopped by the show before heading out on a worldwide tour. They talked about the band's new album, El Pintor, came up with some good heckles for bands and then they were rudely interrupted by professional sound proofer Dante jumps into the conversation to show off his vocal chops.
Also one hand was none other than musical legend Aaron Neville (SNL's Horatio Sanz) returned to the show to issue a Gumbo Challenge, sing some covers of commercials, and share some Don Pardo stories. Parks & Recreation star Ben Schwartz helped round out the week's guests.
Listen below and subscribe to the podcast here.
Tags:
Ben Schwartz
,
Comedy Bang! Bang!
,
Horatio Sanz
,
Interpol
,
Paul Banks
,
podcast
,
Saturday Night Live
,
Scott Aukerman
---
---
---
Powered by ZergNet
---
You must be logged into Comment
Newest
Oldest
Most Replied
Most Liked
Comments( )