---
Watch Josh Groban and Reggie Make Trippy Music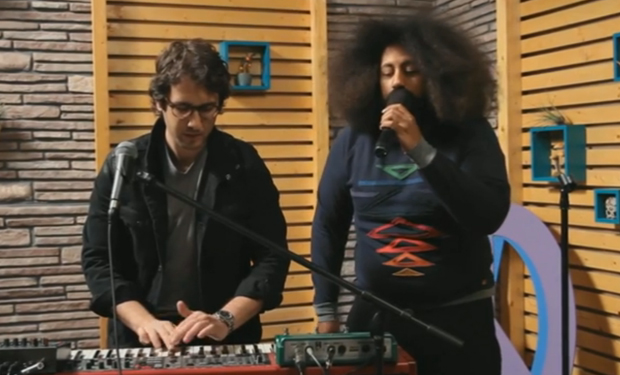 We could soar with the eagles.
To welcome Josh Groban to the stage, we wrote a little song to make him feel right at home: "When Reggie is down and, oh his soul, so weary / When troubles come and his heart burdened be / Then he is still but doesn't wait in the silence/He makes some music with guest Josh Groban/And we can't wait to see."
That's right: Superstar singer Josh Groban is swinging through Reggie's studio this week to pair his mellifluous, melodic voice with Reggie's killer beats and loops. The result is pure improvised musical magic, which is the perfect way to mark the occasion of Comedy Bang! Bang!'s season finale.
Want the latest news from Comedy Bang! Bang!? Like them on Facebook and follow them on Twitter@comedybangbang and use the hashtag #cbbtv.
Comedy Bang! Bang! airs on IFC on Thursdays at 10:30p
Tags:
Comedy Bang! Bang!
,
Josh Groban
,
Reggie Makes Music
,
Reggie Watts
---
---
---
Powered by ZergNet
---
You must be logged into Comment
Newest
Oldest
Most Replied
Most Liked
Comments( )