11 Funniest Kate McKinnon Videos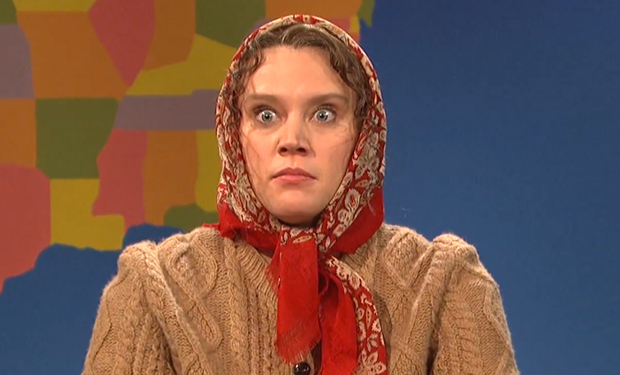 Posted by Nick Nadel on
Since joining Saturday Night Live in April of 2012, Kate McKinnon has become the show's MVP thanks to her hilariously insane array of characters and knack for spot-on impressions of everyone from Justin Bieber to German Chancellor Angela Merkel. To get you ready for her appearance on this week's Comedy Bang! Bang!, here are 11 videos that showcase the breakout star's funniest moments.
11. Penelope Cruz
McKinnon caught our attention right out of the gate during her first episode thanks to her spot-on impersonation of Penelope Cruz. We can't remember the last time a new SNL cast member made an impression so quickly. (Joe Piscopo, maybe?)
---
10. Angela Merkel
Before McKinnon joined SNL, we never would've imagined in a million years that German Chancellor Angela Merkel would be our favorite "Weekend Update" character. We're still laughing about "Nickelback tour schedule" and "Jason Segel no shirt" being in her Google search history.
---
9. Justin Bieber
While the last thing the world needs is more Justin Bieber, we can't get enough of McKinnon's impression. Here she gives Conan a tutorial on how to perfectly capture "The Biebs." (The key is to look like a guilty puppy.)
---
8. Ann Romney
Part of what makes McKinnon great is her ability to turn what would in other hands be a dull impression into comedic gold. (Who knew Ann Romney could be funny?) We could listen to her unique pronunciation of "Beyonce" all night.
---
7. Long Island Medium
Most SNL reality show parodies wear out their welcome pretty fast. But Kate's overly enthusiastic Long Island Medium is welcome on our TV anytime.
---
6. Kate's Ellen Meets Ellen
McKinnon's killer impersonation of Ellen DeGeneres' "funky" dance moves and seeming inability to sit still in a chair is so good, it got the attention of the daytime talk show host herself. Somehow Ellen met "Ellen" without the universe collapsing in on itself.