Watch the new Comedy Bang! Bang! Trailer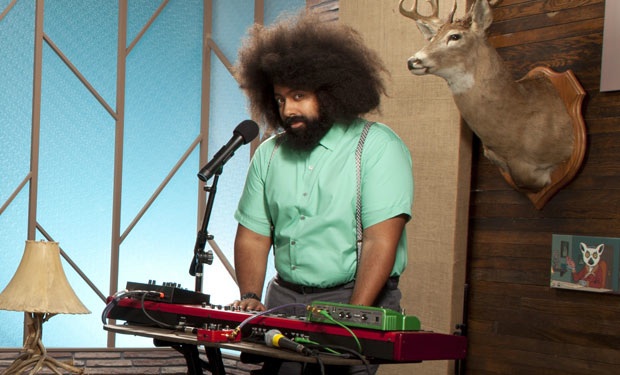 Comedy Bang! Bang! premieres on IFC on Friday June 8th at 10/9c
While fans of Scott Aukerman's Comedy Death Ray and people who know funny people in general are well aware of Aukerman's mad comedy skills, he can't help but admit that he is relatively new to being a wildly successful, can't-walk-down-the-street, swooning teenager, cheering crowd sort of television star. And he needs to be prepared when his new talk show Comedy Bang! Bang! starts on IFC in June. Sure he can ask one-man band Reggie Watts for some tips, but that may not be enough to get Scott through the looming onslaught of teenage fan clubs. So he did the only logical thing for an up-and-coming superstar to do and asked some of his older and wiser celebrity friends for advice on how to be on TV. Saturday Night Live's Andy Samberg, Patton Oswalt, Bob Odenkirk, Parks and Recreation's Amy Poehler, Zach Galifianakis and more all rose to the challenge of teaching Scott how to be a television star. Check out the results of their advice in this brand new trailer for Comedy Bang! Bang! and be sure to tune in for the premiere on June 8th at 10/9c:
Want the latest news about Comedy Bang! Bang!? Like us on Facebook and follow us on @IFCtv
Comedy Bang! Bang! premieres on IFC on Friday June 8th at 10/9c
Tags:
Adam Scott
,
Amy Poehler
,
Andy Samberg
,
Comedy Bang! Bang!
,
Coming Soon
,
Paul F Tompkins
,
PF Tompkins
,
Reggie Watts
,
Scott Aukerman
---
---
---
Powered by ZergNet
---