Characters
Neil Napier (Hagerman)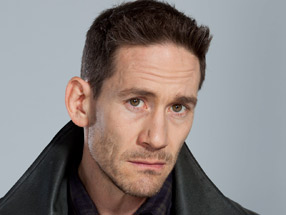 A native Montrealer, Neil Napier is grateful to be able to live and work in the city he loves. In addition to the joyous adventure of playing Lt. Hagerman in Bullet in the Face, he keeps himself busy performing in various television, video-game and film productions in Montreal – most recently alongside Mickey Rourke in Immortals; Rachel Leigh Cook in Stealing Paradise (Lifetime) and Aaron Eckhart in the spy-thriller, The Expatriate.

Napier is also quite active in the Montreal theatre scene, having recently played at Centaur Theatre, inhabiting the dual roles of Dunnison and Lefebrve in Vitorrio Rossi's Paradise by the River, and at Infinitheatre in the (once again) dual roles of Joe and Qusay in Arthur Holden's Fatherland.

Other recent theatre adventures include: Death and the Maiden, With Bated Breath, The Caretaker, Condoville, and The Shape of Things, Six Dance Lessons in Six Weeks, Ned Cox's Hellavator, Hedda Gabler and Alexandria Haber's Housekeeping and Homewrecking.