Characters
Jessica Steen (Eva)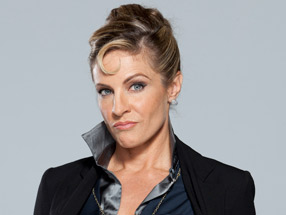 Canadian-born, Gemini award-winning actress Jessica Steen can be seen as the sexy and well-established Lisa Stillman on CBC's hit series Heartland. In 2010, Steen received a Gemini nomination for her recurring role as Donna Savine, a special ops agent, on CBS's action-packed, highly acclaimed series Flashpoint.

Steen began her acting career at the age of eight on the popular children's television series, The Sunrunners. As a young actress, she starred in Young Again, and Captain Power And The Soldiers Of The Future.

Following her success in Canada, she made her American television debut as Linda Metcalf in ABC's Homefront, an Emmy-winning series for ABC. The unique plot and the compelling performance by the ensemble cast led to a People's Choice Award for Outstanding Drama.

After ABC's Homefront, Jessica stepped into her next role as series lead in NBC's Emmy-nominated science fiction show, Earth 2. She expanded her diverse acting portfolio in numerous guest star and supporting roles in television series such as NBC's ER, The Pretender, and CBS' Touched By An Angel.

Steen landed her first Gemini Award with a heart-wrenching performance playing Nora, a feisty woman who schemes to keep her family financially afloat, in CBC's Television movie Small Gifts.
Making the leap to feature films, Steen played the female lead in Touchstone's Blockbuster smash hit Armageddon in which Bruce Willis starred, Michael Bay directed and Jerry Bruckheimer produced. Steen also had lead roles in Slapshot 2 – Breaking The Ice as well as in the Disney MOW's Smart House, and Principal Takes A Holiday.
She returned once more to American television with recurring roles in MGM Universal's Stargate Sg-1, CBS's NCIS, CW's Supernatural, ABC's Monk, FX's Nip Tuck, FOX's Killer Instinct, CBC's J-POD and multiple episodes of ABC's The Practice, just to name a few.