Characters
Eddie Izzard (Tannhäuser)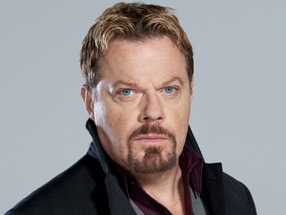 Already one of the most acclaimed comics of his generation, Eddie Izzard is developing an equally stellar reputation as a film, television and stage actor.

Izzard was last seen in the third season of United States of Tara on Showtime and, in June 2011, starred in Disney's animated feature Cars 2 opposite Owen Wilson. He also recently completed shooting the buccaneer classic Treasure Island starring as Long John Silver opposite Elijah Wood as Ben Gunn for the Syfy Channel.

Last year, Believe: The Eddie Izzard Story received an Emmy® Award nomination. The original documentary culled from thousands of hours of footage, documents his rise to fame from his early influences to now. Last year, Izzard was seen on Broadway in David Mamet's Race and in the independent film, Every Day, opposite Liev Schreiber, Helen Hunt and Carla Gugino.

Other recent film roles include Valkyrie, opposite Tom Cruise; MGM's animated film, Igor; Steven Soderbergh's caper, Ocean's Thirteen and Ocean's Twelve opposite George Clooney and Brad Pitt; Julie Taymor's Across the Universe, as well as lending his voice to Jerry Seinfeld's Bee Movie.

In April 2008, Izzard embarked on the largest comedy tour of his career with his show Stripped. In five months, he performed in 34 cities across the U.S. including three nights at New York's legendary Radio City Music Hall. Upon his return to the UK, he broke box office records by selling out a five week tour in the London's West End in less than 48 hours. Stripped indisputably became the hottest selling comedy ticket of 2008 on both sides of the Atlantic.

In 2005, Izzard demonstrated his musical flair in Romance and Cigarettes, a Coen Brothers production directed by John Turturro, starring Susan Sarandon and Kate Winslet. In 2004 he was seen in the mystical western, Blueberry, alongside Kenneth Branagh and Zoe Wannamaker. He delighted children and adults alike as the voice of the "Sand Fairy" in Disney's Five Children and It and in 2001, Izzard enjoyed great success in the US and UK for his portrayal of Charlie Chaplin in Peter Bogdanovich's The Cat's Meow.

His big-screen debut was alongside Bob Hoskins and Robin Williams in the 1996 movie, Secret Agent. Other highlights in his feature film career include appearing in The Avengers with Sean Connery and Velvet Goldmine with Ewan McGregor. Izzard's credits also include All the Queen's Men, The Revenger's Tragedy, and as the voice of Nigel in the animated Disney movie, The Wild.

On television, Izzard last starred in the critically acclaimed FX Network Show, The Riches, opposite Minnie Driver. Izzard also served as a producer.

Izzard's comedic musings have earned him some top awards from Time Out and the Perrier Panel. Live at the Ambassadors received an Olivier Award nomination for Outstanding Achievement. He won the British Comedy Award for Top Stand-Up Comedian in 1993 and 1996, and Dress to Kill earned him a New York Drama Desk Award and two Emmys®.

Izzard's stage appearances include David Mamet's The Cryptogram, the title role in Marlowe's Edward II, 900 Oneonta, and A Day in the Death of Joe Egg in London and on Broadway which won him a handful of awards, including a Tony nomination for Best Actor.

Since his first stage appearance on London's West End in 1993 in the one-man show Live at the Ambassadors, Izzard has inhabited a unique world of his own "carefully crafted rubbish." Live at the Ambassadors was followed by a succession of critically-acclaimed shows including Unrepeatable in 1994, 1996's Definite Article, Glorious in 1997, Dress to Kill in 1998, and the 2000 production, Circle.