David Cross on "It's A Disaster," "Arrested Development"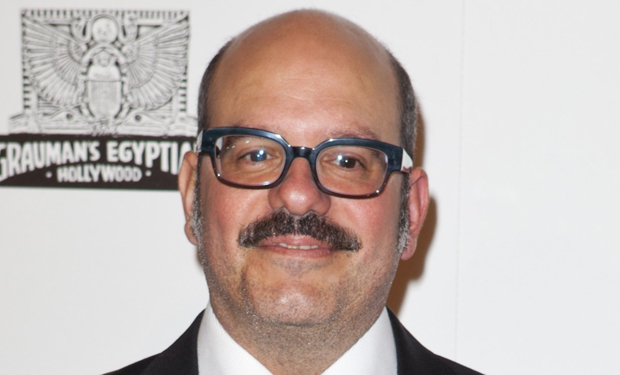 The actor spoke with IFC about his new film and the upcoming series.
David Cross may not be the person you think of turning to in a crisis, but he's (mostly) the voice of reason in "It's A Disaster," in which a group of different couples gather for brunch only to discover that their city (along with Los Angeles, New York, Orlando, San Francisco, and more) is being attacked by terrorists using dirty bombs. Instructed to stay inside, they have a different kind of meltdown (which is what makes it a comedy). "It's not the end of the world," Cross told IFC. "It's the end of their world. It's not like their immediate concern is calling their grandma in Kansas City, because Grandma is going to be fine."
The friends, however, are not. Two latecomers to the brunch succumb on the porch to the VX nerve gas in the air, since Cross has already duct-taped the doors and windows shut and Julia Stiles refuses to break the barrier for them, but not before admonishing them for their perpetual lack of punctuality: "Really? Every time?"
"The way Julia says that is perfect," Cross said. "And that's what I love about this movie. There are no special effects, it's not bombastic, it's not crazy 0-120 miles per hour in six seconds. It's subtle and slow about how petty and narcissistic some of these people are. They bicker in a very real way, not in an arch '30 Rock' way. It's the way real people talk."
Cross almost didn't want to do "It's A Disaster" in the first place, but he was won over by the dialogue. After spending eight months in London, he really wanted to be back home in New York, "just f—ing be here, just chill out with my dog and my wife," but then he had to go to Los Angeles for the weekend for something for his mother-in-law. While he was there, Ferrera sent him the script for the film, by writer/director Todd Berger. "I said, 'No. I don't care what it is. There's no way I'm spending a month in L.A., another month not at home,'" Cross recalled. "But then it was so good and real, and I appreciated Todd's ear for dialogue, so I stayed. And I loved that it was a character that I don't get to play that often, a grounded straight man … at least up until the last fifteen minutes."
Even after the grid goes down and they figure out they have less than a few hours to live, the couples are more concerned with the state of their relationships — one couple wants Cross to join them in threesome, another couple rethinks divorcing, another couple calls off a wedding. America Ferrera's character decides to finally ingest any food or drugs she ever wanted, cooking up a "poor man's ecstasy" in the kitchen, while Stiles' character laments all the things she never got to do — go to Europe, go scuba diving, fall in love, or watch "The Wire." To comfort her, Cross' character Glenn tells her, "All those things are overrated. Except for 'The Wire,' that's really good." If confronted with his immediate demise, Cross himself would "bum out about water boarding, either doing or being water boarded, because I kind of wanted that experience," he said. "I also wanted to get in the Guinness Book of World Records for being naked. Or eat a live cow, from start to finish. There are so many things."
One thing Cross did get to do before he died, however, was one more season of "Arrested Development" — which he predicts might shut down the grid once it returns with its debut on Netflix on May 26. "I'm curious," he said. "I'm not sure the grid will go down on that day, but the next day, it's going to be like, 'Gotta watch another, gotta watch another, gotta watch another' as people binge on it. We will probably lose 62 billion dollars in man hours and production, whatever the GNP is for the day, or whatever it costs us to be in Iraq and Afghanistan for a couple hours."
Cross got back in the cutoffs to play the loveable Bluth family in-law Tobias Fünke, who still hasn't recovered from being a never-nude. In photos leaked from the set, Cross was seen wearing a sheet, which caused speculation that perhaps Tobias would have a nude scene after all. Sadly, no. "I'm happy to get naked in real life at the slightest suggestion," Cross said, "but as far as the character, I doubt it. That photo was from our first day of shooting, and it was my character's attempt to wear an Indian sari."
Cross predicts that the model of releasing all the episodes simultaneously will spread as "creative and ambitious people who make television and who have the imagination to utilize it" watch "Arrested Development," but it'll be slow to start. "Most people play it safe," he said. "It's only going to be a handful of people at first, but hopefully eventually more." As for the renewed series leading to a film as planned, he was circumspect. "As I understand it, the series will work on its own, and it will work if a film continues the story," Cross said. "You will be quite satisfied if there is no film. It's not like anybody would miss it, you know what I mean?"
"It's a Disaster" opens today in New York and Los Angeles.
"Arrested Development" season four premieres on Netflix on May 26.
What David Cross project are you most excited for? Tell us in the comments section below or on Facebook and Twitter.
Tags:
Arrested Development
,
David Cross
,
It's A Disaster
---
---
---
Powered by ZergNet
---