"Before Sunrise" characters will come full circle in "Before Midnight," says Ethan Hawke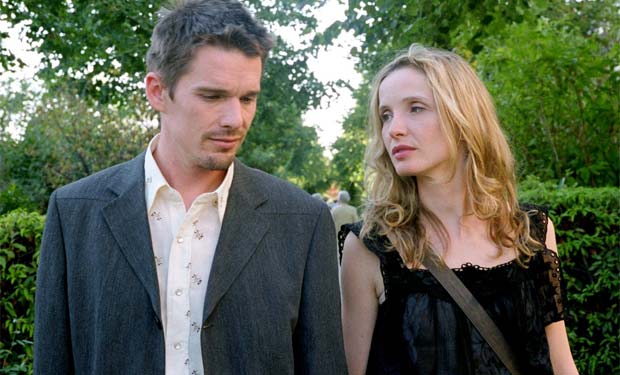 The star opens up to IFC about Richard Linklater's latest film in the "Before Sunrise" franchise.
The glorious love story of Jesse and Celine — begun in "Before Sunrise," and then continued in "Before Sunset" — will finally come to a conclusion in the just-shot "Before Midnight." What'll it be like? At the premiere of his new horror film "Sinister," Ethan Hawke told us, "I felt in the third one, they come full circle, for both characters," he said.
All these years after their star-crossed meeting in Vienna and subsequent, older-and-wiser encounter in Paris, Hawke's Jesse and Julie Delpy's Celine are together again, this time in Greece — which is no accident, apparently. Hawke said the actors and their co-writer and director, Richard Linklater, decided to give this concluding chapter of the story a Hellenic flavor because "[Greece] is the birthplace of romanticism, and these movies are deeply romantic," Hawke noted. "And these movies start to become about time. Time is as big of a character in the movie as Jesse and Celine."
Walking amid ancient Greek ruins, he said, heightened the possibility that fate might play a role in how the relationship will turn out. "You can't walk a hundred yards in Greece without stumbling on some artifact of time," he said. "So it was fun to set it there, and it's a beautiful and poetic place to find them."
Did Jesse make his plane (which he was about to miss at the end of the second film)? Has he written anything since his last novel, "This Time" — which was actually inspired by meeting Celine in "Before Sunrise," and became the occasion of their reunion in "Before Sunset," when he was on a book tour? Can he reclaim the spark, or is he still trying to recapture past glories — like his character in "Sinister," who's also an author? "You'll find out," Hawke said with a smile. "You'll find out what he's been writing. It might be a similar thing [between the two films]. You're not that far off."
Tags:
Before Midnight
,
Before Sunrise
,
Before Sunset
,
Ethan Hawke
,
Julie Delpy
,
Richard Linklater
---
---
---
Powered by ZergNet
---