Call-In Commentary: Watch "The Babymakers" trailer with director Jay Chandrasekhar of Broken Lizard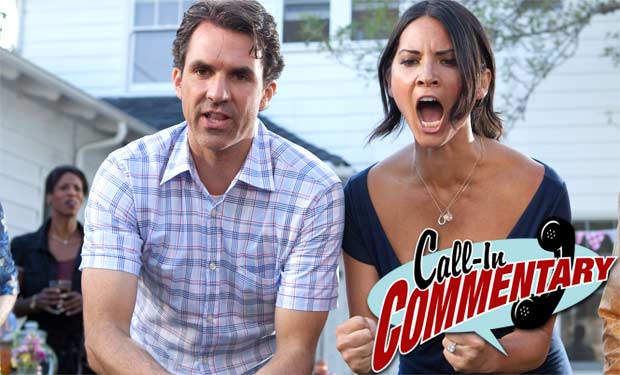 The man behind "Super Troopers" and "Beerfest" takes you inside his sperm bank heist film.
In the 2000s, comedy troupe Broken Lizard exploded on the scene with a series of low-budget laughers that catapulted them into the moviegoing consciousnesses and firmly established them as a Hollywood player. While "Super Troopers" has remained their biggest hit to date, other projects like "Club Dread" and "Beerfest" continued to garner them attention…fans that director Jay Chandrasekhar hopes will follow them into the theater for his latest endeavor, "The Babymakers."
"The Babymakers" follows a couple (Paul Schneider and former G4 host Olivia Munn) who are attempting to get pregnant. Upon discovering that he may be infertile, Schneider recruits a friend to help him rob a sperm bank in which he once made a donation. The film is arguably the first sperm bank heist movie, a point Chandrasekhar makes in his Call-In Commentary, the IFC web series where filmmakers provide audio narration to their movie trailers. In the video below, let the Lizarder walk you through the plot and its characters, including many from the earlier "Super Troopers."
"The Babymakers" is currently available on VOD.
MORE CALL-IN COMMENTARIES:
- Watch the "Robot & Frank" trailer with director Jake Schreier
- Watch the "Iron Sky" trailer with director Timo Vuorensola
- Watch "The Imposter" trailer with director Bart Layton
- Watch the "Dark Horse" trailer with writer-director Todd Solondz
- Watch the "Snow White and the Huntsman" trailer with director Rupert Sanders
- Watch the "Bernie" trailer with writer-director Richard Linklater
View more Call-In Commentaries…
Will you be checking out "The Babymakers"? Let us know in the comments below, or on Facebook or Twitter.
Tags:
Broken Lizard
,
Call-In Commentary
,
Jay Chandrasekhar
,
Olivia Munn
,
Paul Schneider
,
The Babymakers
,
Videos
---
---
---
Powered by ZergNet
---