Exclusive download: Edward Sharpe & The Magnetic Zeros – "Dear Believer (Timmy The Terror Remix)"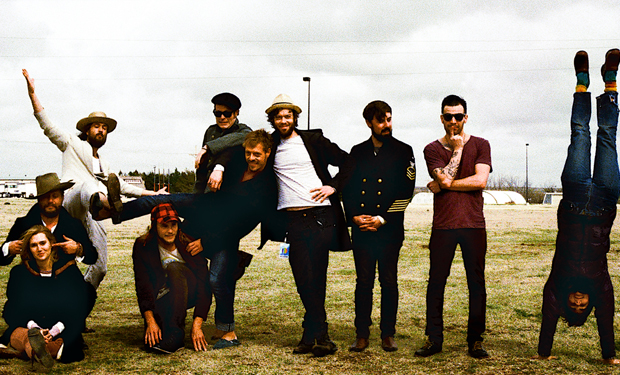 Edward Sharpe & The Magnetic Zeros went through a feel-good machine helmed by Ima Robot's Timmy Anderson, and came out the other end beautifully rearranged. If you're wary of remixes, let your guard down for this one. Edwarde Sharpe and Ima Robot share at least one member in singer Alex Ebert, and that camaraderie it seems to show in the quality of this track.
"Dear Believer" is a sweetly, triumphant number off of the band's new record, "Here" (already out on Community Music/Vagrant). Where it's guitars jangle, Timmy turns their strings into honey-covered rubber bands. Where the original track swells with storm clouds of bright horns, the remix rides a steady wave through a popscape punctuated by Moby-era calls and a heavy synth wash.


DOWNLOAD: "Dear Believer (Timmy The Terror Remix)"

Edward Sharpe & The Magnetic Zeros upcoming US tour dates:
September 07 @ Greek Theatre – Berkeley, CA
September 09 @ Doheny Days Music Festival – Dana Point, CA on sale now
September 11 @ Arlene Schnitzer Concert Hall – Portland, OR
September 12 @ McDonald Theater – Eugene, OR
September 14 @ Malkin Bowl in Stanley Park – Vancouver, BC
September 15 @ Marymoor Amphitheater – Redmond, WA on sale now
September 17 @ MacEwan Hall – Calgary, AB
September 18 @ Edmonton Event Center – Edmonton, AB
September 21 @ Roots 'N Blues 'N BBQ Festival – Columbia, MO on sale now
September 23 @ Egyptian Room – Indianapolis, IN
September 25 @ Royal Oak Music Theatre – Royal Oak, MI
September 26 @ Iroquois Amphitheater – Louisville, KY
September 27 @ Thomas Wolfe Auditorium – Asheville, NC
September 29 @ North Charleston Performing Arts Center – North Charleston, SC
September 30 @ Beacham Theatre – Orlando, FL
October 01 @ Jannus Live – Saint Petersburg, FL
October 03 @ Mahalia Jackson Theater For The Performing Arts – New Orleans, LA
Ocotober 05 @ Crossroads – Kansas City, MO
Tags:
Dear Believer (Timmy The Terror Remix)
,
Downloads
,
Edward Sharpe & The Magnetic Zeros
,
MP3
,
Music
---
---
---
Powered by ZergNet
---