Marvel creates official movie timeline leading up to "The Avengers"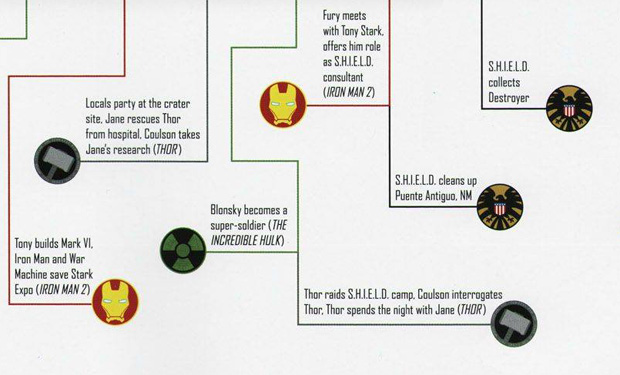 It all hinges around Tony Stark declaring himself as Iron Man. Who knew?
Need any more proof that the Marvel movie universe hinges around Robert Downey Jr. and Iron Man? Well, just check out the studio's official Cinematic Universe Timeline from their new Art of the Avengers book. The timeline puts the events from the six Marvel movies in chronological order, spanning from 1000 years before Tony Stark declared he was Iron Man right up until the start of "The Avengers."
All joking about Iron Man aside, the timeline offers a really great look at how all the pieces came together to lead up to "The Avengers." It even offers some more context to the events that occurred after "Thor," "Captain America," "The Incredible Hulk" and "Iron Man 2″ to set up what is happening as "The Avengers" begins.
For example, Tony Stark began construction on the Stark Tower at around the same time Loki arrives on Earth and Captain America was discovered in the Arctic. We were able to parse that out from the set up in "The Avengers," but we didn't realize before reading this timeline that the events of "Thor," "Iron Man 2″ and "The Incredible Hulk" were all supposed to happen in the same week.
No wonder Nick Fury looked so stressed out by the time "The Avengers" began.
Similar infographics have been made before, but we're glad Marvel decided to come out and set the record straight on the chronology of their big screen stories. Hopefully three-ish years down the road we'll see another one of these that adds all the events that lead up to "The Avengers 2," "Guardians of the Galaxy," or whatever other big ensemble flick Marvel concocts next.
Many thanks to @MarvelFreshman, who scanned the massive timeline and put it online. You can click on the image below to open up the full-size version of the timeline in a new window.

Are you glad Marvel released an official timeline? Tell us in the comments section below or on Facebook and Twitter.
Tags:
Captain America: The First Avenger
,
Iron Man
,
Iron Man 2
,
The Avengers
,
The Incredible Hulk
,
Thor
---
---
---
Powered by ZergNet
---