"Michael Bay in a Can" fake energy drink ad promises to amp up boring filmmakers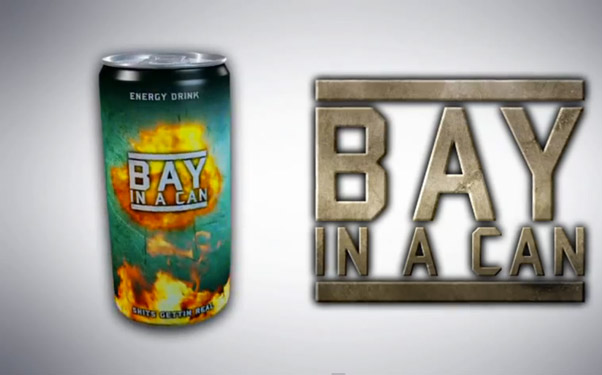 Youtube filmmakers Sneaky Zebra made a commercial for the energy drink that adds more Michael Bay to up-and-coming directors' movies.
Can the world handle any more Michael Bay than it already has? The guys over at Sneaky Zebra certainly think so (though Gizmodo does not). UK-based filmmakers Gary Scullion and Nick Acott have created a hilarious commercial for their new (fake) product, Bay in a Can. As you probably could tell from its name, this Michael Bay-infused energy drink is "scientifically proven to make you more awesome in every way."
The fake drink is apparently designed to help filmmakers beef up their movies with elements of Bay's filmmaking style. Boring old breakfast scene? Why not add a scantily clad woman eating strawberries and whipped cream. Filming a guy walking down the street? Throw in a leather jacket and motorcycle. The only thing this video is lacking is Bay-styled explosions, but that probably only occurs when someone drinks more than two Bay in a Can's in one day.
Made from "actual hair follicles from Michael Bay" that are taken while he's sleeping, Bay in a Can may cause pregnancy in males and should be kept away from vital organs. The tagline for the drink isn't "shit's gettin' real" for nothing.
Would you buy Bay in a Can if it was actually a real drink? Let us know in the comments section below or on Facebook and Twitter.
Tags:
Michael Bay
,
Sneaky Zebra
---
---
---
Powered by ZergNet
---