Exclusive premiere: Sallie Ford & The Sound Outside "Cage"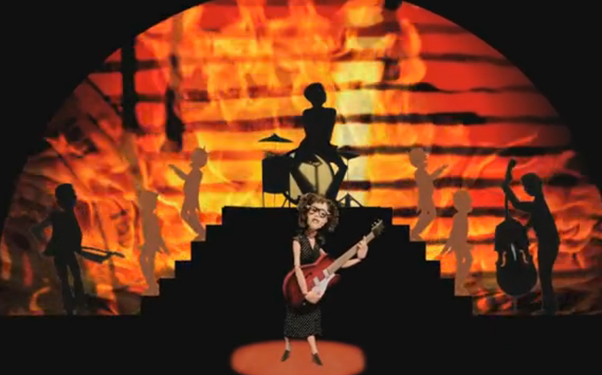 What are we supposed to do? That bitch, she got Sallie locked up in a cage.
Sallie Ford & The Sound Outside are on fire in this down and dirty rockabilly ode to hellish service jobs. If "Cage" and it's minor key blues comes off like a middle finger to nasty managers, it's because it is. Until recently, the 23 year-old Ford was struggling, trapped at restaurant jobs, eking out creative time to write songs and perform at open mic nights. "It's not my reality anymore," Ford, who recently appeared on Letterman said. "It's nice to be able to say and do whatever you want."
Seen here as a marionette, Ford threatens and hollers like Ella Fitzgerald if Tom Waits were pulling her strings. Her bandmates, rendered as shadow puppets, thought up the call and response style vocals that lend this ditty a first rate old time quality. "We get comparisons to older music, which is cool, but we didn't really have any specific idea when we recorded the song," Sallie says. The song was recorded with a chorus of friends too, depicted here as the little devils in the background.
The whimsical puppetry in the video was created by Sallie's father, renowned puppeteer Hobey Ford. Asheville, NC native Sallie Ford is now based in Portland with her band The Sound Outside. Their album, "Dirty Radio" is out on Partisan Records.
"Cage" is just about this horrible restaurant job I worked," says Sallie. "I was never really good at it but that was my reality for a long time, but then I'd go home write songs about my love life. People always think this song is about my family but it's not really directed towards anything — it's supposed to be humorous but sort of dark."
What are we supposed to do? Let us know in the comments below or on Twitter or Facebook!
Tags:
Cage
,
exclusive music videos
,
Music
,
Music Videos
,
Sallie Ford & The Sound Outside
---
---
---
Powered by ZergNet
---