---
"Captain America: The First Avenger": Five things that were missing from the superhero movie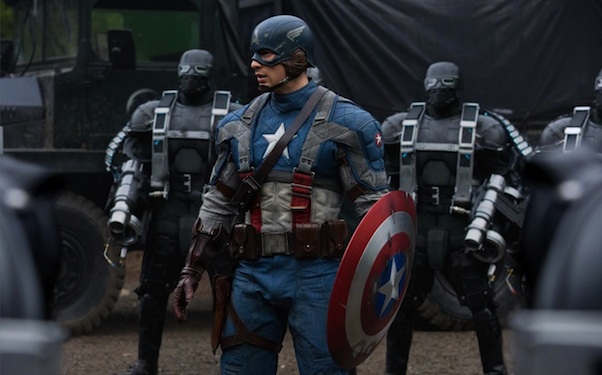 Marvel's latest film was filled with nods to the comics, but there was a lot left out, too.
Last week, I reviewed "Captain America: The First Avenger," Marvel's final solo-superhero film before next year's massive team-up extravaganza, "The Avengers." In my review, I indicated some of the elements — good and bad — that made it stick out from the rest of the Marvel movie-verse offerings so far.
While the film was filled with nods to the comic book source material, there was quite a bit of material comics fans were likely expecting to see that never quite made the cut. Here are some of the things I was surprised not to see in The First Avenger's big debut.
---
Steve Rogers, The Artist
While we received a pair of slight indications of Rogers' artistic talents (when he sketches a picture of a trained monkey to represent his role, and then when he redesigns his suit), it's unfortunate that there couldn't have been a more obvious nod to his interests before becoming America's super-soldier. In Marvel Comics lore, Rogers was a fine arts student specializing in illustration — and the creator of a comic book or two of his own, in fact. In the film, we find out little of Rogers' past, only that he desperately wants to join the military.
---
What Did You Say That Thing's Made Out Of?
Much like the material that makes up Wolverine's claws, adamantium, Captain America's shield is made of a fictional metal called "vibranium." In the comics world, vibranium is only found in the African nation of Wakanda, where the Cap's Avengers teammate Black Panther hails from. While there's a mention in the movie of Cap's shield being made of vibranium, there's little explanation given for why this mystery metal has such unique properties. At first, I was surprised more people weren't wondering about this, but then I remembered the use of "unobtanium" in "Avatar" and decided to blame the whole thing on James Cameron.
---
Bucky: Armed or De-Armed
While "The First Avenger" does include the perceived demise of Captain America's famous partner, James "Bucky" Barnes, things take a bit of a different turn in the film than they did in the comics universe. In Marvels' Captain America comics, Bucky attempts to disarm a rocket and is presumed dead when his arm is caught in a control panel and the whole thing explodes. Modern readers know that Bucky survived the incident, however, and later returned with a cybernetic arm and a grudge against his former partner. In the film, we see Bucky disappear, but it happens in a far less explosive manner, and with no clear nod to him losing his arm.
---
Nick Fury, Howling Commando
In the comics, Nick Fury was the original leader of the Howling Commandoes, the elite military squad that Captain America teams up with in the film. While we get a look at Nicky Fury in the modern era later in the film, it was interesting to note Marvel's decision not to include him in the World War II setting. Sure, some will argue that the timeline wouldn't make sense in Marvel's real-world environment, but remember that Fury told Tony Stark in "Iron Man" that he'd been around for very long time.
---
Wherefore Art Thou, Invaders?
Possibly the most egregious omission from "The First Avenger" is Captain America's famous fighting team, The Invaders. Made up of Sub-Mariner, the original Human Torch, and other popular WWII-era superheroes, The Invaders wreaked havoc on the Nazis during comics' Golden Age. There's a brief nod to The Invaders early in the movie, when the camera passes over an "Artificial Man" exhibit at the World's Fair. The red, humanoid figure is said to be a reference to the Golden Age version of the Human Torch. Still, it would have been nice to have more evidence of The Invaders' role in Marvel's WWII history.
---
What were you hoping to see but didn't in "Captain America"? Chime in below or on Facebook or Twitter.
Tags:
Captain America
,
Captain America: The First Avenger
,
Chris Evans
---
---
---
Powered by ZergNet
---
You must be logged into Comment
Newest
Oldest
Most Replied
Most Liked
Comments( )