Premiere: Spindrift "The Legend Of The Widower Colby Wallace"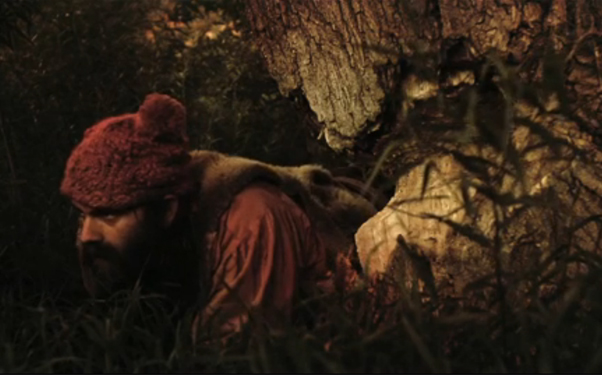 Mountain men and a western psychedelic score collide with a bear in "The Legend Of The Widower Colby Wallace."
Spindrift's been on a whirlwind streak pairing their music with film, the latest of which is a collaboration with director Burke Roberts in this trailer for his short (and soon to be feature), "The Legend Of The Widower Colby Wallace."
"I have been a friend and fan of Spindrift for some time and knew that at some point the perfect project for collaboration with them would appear. 'Legend Of The Widower Colby Wallace' is certainly that," Roberts said, of the western psyche score Spindrift provided. He referred to their mutual love of a genre he described as "neo-classical Psychedelic Americana…. or something — point is when it comes to this sort of film, Spindrift and I piss in the same pool."
In this trailer for the short, French trapper Francois Le Fey, comes down out of the Rocky Mountains in 1826 en route to trade beaver pelts at the "first annual Rendezvous of Mountain Man." When Le Fey happens upon Colby Wallace and his Native American bride, he hasn't seen another man in more than a year. The director notes, somewhat menacingly, "he had not seen a living woman in far longer." The feature length incarnation, also to be scored by Spindrift, is in pre-production to shoot next year.
Tags:
exclusive music videos
,
Music Videos
,
Spindrift
,
The Legend Of The Widower Colby Wallace
---
---
---
Powered by ZergNet
---