Marc Maron Interviews Garry Shandling For WTF Podcast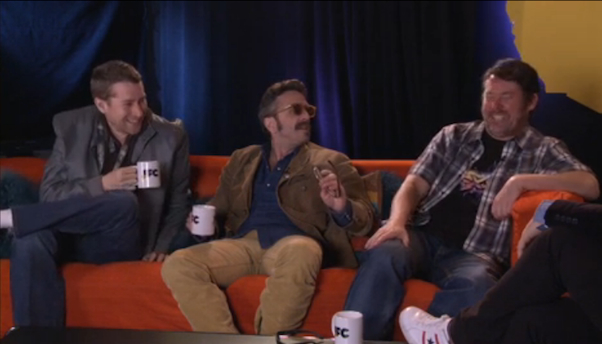 These are a few of our favorite things.
Comedian Marc Maron runs one of the best podcasts around, the WTF podcast. This week, he talked to comedian and actor Garry Shandling. Yes, THAT Garry Shandling, star of The Larry Sanders Show. It's the perfect storm of things we love: Garry Shandling, comedy, Larry Sanders, and Marc Maron. In episode 177 of the podcast, Garry talks boxing, basketball, mothers, self-acceptance and, of course, best show ever (and IFC fave) Larry Sanders. Go listen right now. We'll wait.
We pretty much look for any excuse to trot out one of our favorite videos from SXSW 2011. Namely, the interview that Alex Blagg conducted with Marc Maron, Scott Aukerman, and Doug Benson on podcasting strat. Watch it again! You won't regret it. Want more SXSW memories? We have all our interviews with stars ranging from Conan O'Brien to Peewee Herman to Rainn Wilson and performances from The Kills, Emmylou Harris, Liz Phair and more on our SXSW site.:
SXSW 2011: "PODCASTERS" Interactive Interview, Part 1:
SXSW 2011: "PODCASTERS" Interactive Interview, Part 2:
SXSW 2011: "PODCASTERS" Interactive Interview, Part 3:
Tags:
Alex Blagg
,
Doug Benson
,
Garry Shandling
,
Marc Maron
,
Scott Aukerman
,
SXSW
,
The Larry Sanders Show
,
WTF Podcast
---
---
---
Powered by ZergNet
---