The Most Quotable Lines From "The Fast and the Furious" Franchise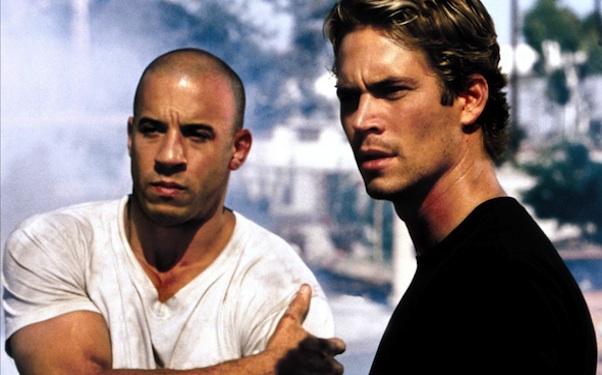 Plus the most quotable homoerotic lines in the series' history.
It's not always easy to hear over the revving of engines, but the sometimes poetic, sometimes idiotic, sometimes poetically idiotic — "poetiotic?" — dialogue has remained a highlight of "The Fast and the Furious" series' first four installments. With "Fast Five" hitting theaters tomorrow, I rewatched the entire series to date and picked out my favorite and most quotable lines of dialogue. Then, just because it's impossible not to miss when you're listening to words that are coming out of these characters' mouths, I also made a second list containing all of my favorite and most quotable homoerotic dialogue. I've always been of the opinion that the undercurrent of sexual tension between the big muscley dudes in these movies was accidental, an unintended byproduct of these excessively, cartoonishly masculine movies. But you look at the lines I picked. It's hard not to believe at least some of it is intentional.
With grateful acknowledgement to screenwriters Gary Scott Thompson, Erik Bergquist, David Ayer, Michael Brandt, Derek Haas, and Chris Morgan, I present —
The Most Quotable Lines From "The Fast and the Furious" Franchise
10. "I live my life a quarter-mile at a time. Nothing else matters. Not the mortgage, not the store, not my team and all their bullshit. For those ten seconds or less, I'm free." — Dom, "The Fast and the Furious" (2001)
9. "One car in exchange for knowing what a man's made of. That's a price I can live with." — Han, "The Fast and the Furious: Tokyo Drift" (2006)
8. (The film's villain to his own girlfriend) "They say your mom was the best trick in all of Kabukicho back in the day." — D.K., "The Fast and the Furious: Tokyo Drift" (2006)
7. "That's some driving for your ass! Ain't that some driving for your ass?" — Roman, "2 Fast 2 Furious" (2003)
6. "So if you don't drift to win, what do you drift for?" — Sean, "The Fast and the Furious: Tokyo Drift" (2006)
5. "Maybe you're lying to yourself. Maybe you're not the good guy pretending to be the bad guy. Maybe you're the bad guy pretending to be the good guy." — Mia, "Fast & Furious" (2009)
4. (As villainous Johnny Tran drives up) "Dom! We got a wolf pack!" — Jesse, "The Fast and the Furious" (2001)
3. "Not that I want to contradict Harry's fine judge of character but Torretto did hard time for nearly beating a guy to death. He's got nitrous oxide in his blood and a gas tank for a brain." — Sgt. Tanner, "The Fast and the Furious" (2001)
2. (Walking into a dance club) "It's a ho-asis in here, brah." — Roman, "2 Fast 2 Furious" (2003)
1. "What's up with this fool? What is he, sandwich crazy?" — Vince, "The Fast and the Furious" (2001)
BONUS ROUND: The Most Quotable (Homoerotic) Lines in "The Fast and the Furious" Franchise
5. (To Brian) "When I needed your ass you were nowhere to be found." — Roman, "2 Fast 2 Furious" (2003)
4. (To Brian) "Dom's like… he's like gravity. Everything just gets pulled to him. Even you." — Mia, "The Fast and the Furious" (2001)
3. "Man it's so hot and humid out here I can't wear no drawers."
"Yeah, tell me about it." — Roman and Brian, "2 Fast 2 Furious" (2006)
2. "Are you one of those boys who prefers cars to women?"

"I'm one of those boys that appreciates a fine body, regardless of the make." — Gisele and Dom, "Fast & Furious" (2009)
1. "Japanese food is like the army: don't ask, don't tell. Name's Twinkie." — Twinkie, "The Fast and the Furious: Tokyo Drift" (2006)
Tags:
Paul Walker
,
The Fast and the Furious
,
Vin Diesel
---
---
---
Powered by ZergNet
---