IFC At SXSW: The Legendary Emmylou Harris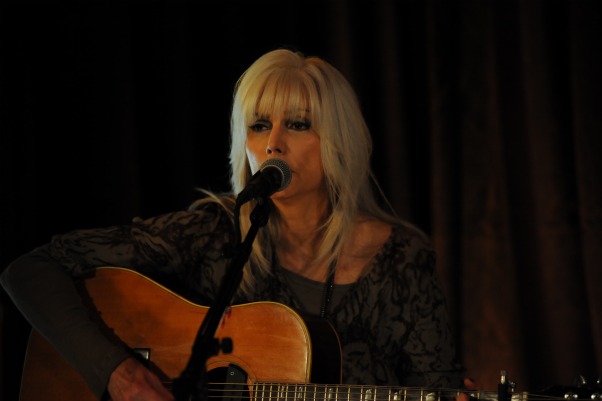 Emmylou Harris plays songs off her new album "Hard Bargain"
SXSW is a monster. There are 2000 bands playing over five days and after a while every band, be it indie rock, hip hop, or swing starts to sound identical. Every band that is, except Emmylou Harris and her Red Dirt Boys. The legendary singer's crooning countrified voice swirled over the scene like a cloud, entrancing everyone who heard it. In the middle of SXSW, IFC was lucky enough to host the performer for an intimate interview and concert where Ms. Harris lulled the crowd into a state of sheer awe. The singer and guitarist played songs off her new album "Hard Bargain" and showed these SXSW kids a thing or two about how a legend is made.
Before her set, Ms. Harris sat down with performer and IFC's SXSW music host Ted Leo to talk shop:
Interview Part 1:
Interview Part 2:
After her interview, Emmylou grabbed her guitar and headed downstairs to play a set of songs with her backing band, The Red Dirt Boys. This was the second time they performed the new album "Hard Bargain" live:
Tags:
Country Music
,
Emmylou Harris
,
SXSW 2011
,
SXSW Music
,
SXSW PERFORMANCES
,
Videos
---
---
---
Powered by ZergNet
---
You must be logged into Comment
Newest
Oldest
Most Replied
Most Liked
Comments( )