A Tribute To Film's Fictional Bands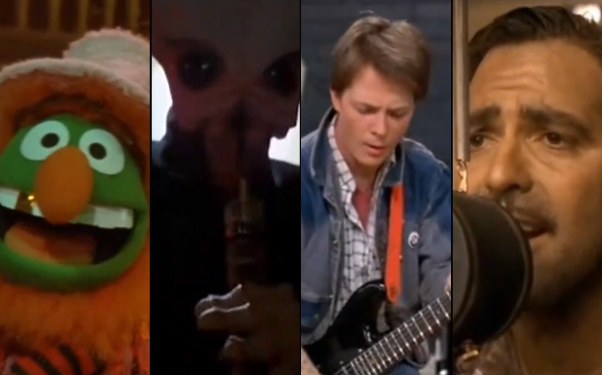 Watch this montage of memorable fictional bands from some of your favorite films.
Check out this worthy montage featuring some of the greatest fictional bands from film history. Favorites include Dr. Teeth and the Electric Mayhem playing "Can you picture that" in "The Muppet Movie," the Soggy Mountain Boys belting out "I Am a Man of Constant Sorrow" in the Coen's "O Brother, Where Art Thou?" and Michael J Fox's The pinheads jamming "The Power of Love" by Huey Lewis & The News before Marty McFly tragically wounded his hand.
Best of all may be Figrin D'an and the Modal Nodes, better known on the streets as the Cantina Band, performing one of their crowd favorites, "Mad About Me." You'll remember it from Mos Eisley Cantina like it was yesterday. Luke and Obi-Wan dropped in looking for a ship, only to get into a nasty brawl with Ponda Baba and the insidious Doctor Cornelius Evazan — I don't like you either! Figrin D'an and the Modal Nodes stopped playing for a moment, but after a severed limb or two they picked right back up where they left off, and not a Bith beat was skipped.
Soundtracks
,
Star Wars
,
The Muppets
---
---
---
Powered by ZergNet
---