Exclusive Premiere: Röyksopp "Senior Living"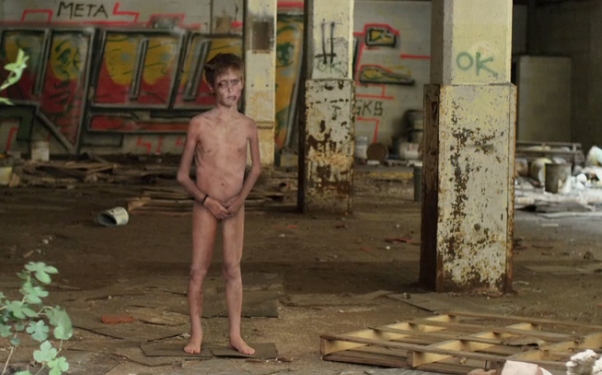 Immerse in the relaxed horror of Röyksopp's "Senior Living" -- chicks, wolves, zombie children and the total urban decay of an American city.
"Senior" is Röyksopp's chill follow up to 2009′s dance album, "Junior." The Norwegian electronica duo recorded the albums at the same time, but "Senior" is the mellow instrumental counterpart — the ambient music playing in the freak out room when your legs give out from the space invader dance stomping across the floor.
This short film born from six of the tracks on "Senior" is far from chillaxed though, featuring heavily disturbed images of broken children and zombie-like men tormenting three girls decked out like 1984 in an urban hellscape. When I first saw it, I was trying to figure out what blown out Scandinavian town it was filmed in, long abandoned from some volcanic fallout. Then I decided the directors, Noel Paul and Stefan Moore (ThatGo) traveled to Chernobyl for the shoot, before they revealed that, "We shot it in Detroit because it is exists as a contemporary dystopia." If you have to see it to believe it, if you've never been there. They didn't do any set dressing either. "All of our locations were filmed as we found them," they noted. I assume the skull licking wolves were imported, but the zombies may be actual residents of Detroit.
Warning, sensitive viewers may need to be admitted to a freak out room after viewing:
Röyksopp, aka, Svein Berge and Tobjørn Brundtland said it left them in a "bewildered state…. that confusing feeling one gets when exposed to something uneasy yet pleasing," after watching the final product. "Their [Paul and Moore's] urban dystopia is dark and disturbing, but in between we catch a glimpse of beauty — to us in the form of derelict, decaying industry. I guess we felt a kinship to this subject matter as it's the same kind of expression we dealt with on "Senior," although we spun it around the other way; there's initial gentle and welcoming beauty, but underneath lies a lowering dark undercurrent — occasionally discharging malaise from it's murky depths."
Tags:
Music Videos
,
Royksopp
,
Senior
---
---
---
Powered by ZergNet
---