Plan 10 From Half Moon Bay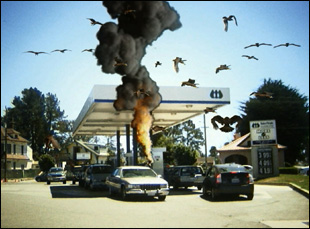 James Nguyen's "Birdemic: Shock and Terror" proves there's such a thing as good bird crap.
A few minutes past midnight on Friday, a man in a gray suit and bright red tie took to the stage of the IFC Center's Theater One and, to the applause of the sold-out audience, proudly waved a wire coat hanger in the air like an athlete brandishing the Olympic torch. This borderline deranged behavior would only draw an enthusiastic positive response at two places: a Joan Crawford impersonators' convention or the New York City premiere of "Birdemic: Shock and Terror," a eco-horror romantic thriller that has been dubbed "the next hilariously great cult movie" by no less an appropriate outlet than New York magazine's Vulture blog.
The hanger-wielding man in the suit was "Birdemic" writer/director James Nguyen, a software salesman by day who boasted that he "went to the film school of Hitchcock cinema" during the introductory Q & A. Arguably, he also could've attended the film school of Edward D. Wood Jr. cinema, since "Birdemic" feels far more indebted to Wood's "Plan 9 From Outer Space" with its blend of ultra-low budget filmmaking and cuckoo bananas ecological message than anything by the Master of Suspense.
To be clear: I mean that as a compliment. I was laughing so hard that tears were running down my face even before the end of the opening credits sequence, which blends title cards like "Moviehead Pictures Presents… A Moviehead Production" with the most artless, endless and pointless driving scenes since "Manos: The Hands of Fate." "Birdemic" is the rare film worthy of comparison to "Plan 9," "Troll 2," "Battlefield Earth" and "The Room" as one of the best bad movies ever made. A still of any of its laughably unconvincing bird-related special effects would be the ideal illustration in any reprinting of Susan Sontag's 1964 essay "Notes on 'Camp', " particularly if placed alongside the paragraph that reads:
"In naïve, or pure, Camp the essential element is seriousness, a seriousness that fails. Of course, not all seriousness that fails can be redeemed as Camp. Only that which has the proper mixture of the exaggerated, the fantastic, the passionate, and the naïve."
Ed Wood had aliens threaten mankind for their use of atomic energy. Nguyen has two different characters — an ornithologist and a treehouse-dwelling hippie — deliver subtlety-free pro-environment monologues that pin the blame for the avian chaos on mankind's wasteful habits. During his introduction, Nguyen cribbed from an old Jack Warner line in his claim that the film "not here to send a message. If I wanted to do that I'd use a post office." Yet "Birdemic"'s shock and terror is rooted in a kind of didactic ecological panic that makes M. Night Shyamalan's "The Happening" look relatively cogent in comparison.
My own personal measuring stick for camp movie greatness has five dimensions: poor acting, bad dialogue, enormous plot holes, technically incompetent filmmaking, and inexplicable personal touches indicative of the naïve passion Sontag talked about. "Birdemic" hits them all. It has a leading man (Alan Bagh) who always looks like he just woke up from a nap. It has lines of dialogue like "That was a great movie! 'An Inconvenient Truth!'"
It has characters who make hilariously bad decisions, like stopping for a leisurely outdoor picnic in the middle of a bird invasion. It has a timeline that makes absolutely no sense — in one implausible and very busy week, the hero makes $1 million when his software company is acquired by Oracle, invents a new kind of non-silicon-based solar panel, builds a start-up company around it, convinces a venture capitalist to invest $10 million in his idea, gets a new girlfriend and is attacked by hundreds of eagles and vultures. Finally, "Birdemic" has maybe the worst sound mix of any film that has ever received a theatrical release in major venues around the country. (You know what the last line of the film is? Me neither. I couldn't hear it over the sound of the wind howling through the microphone.)
And it's all done in support of Nguyen's deeply felt and clumsily delivered lefty politics, which come through in the go-green speechifying, the character who repeatedly wears an ImaginePeace.com T-shirt, and a bunch of interminable driving scenes which initially seem to exist only to pad the running time but are ultimately revealed as a poorly chosen stab at social commentary. The characters in "Birdemic" literally drive themselves to death, a clunky Woodian metaphor for the message Nguyen insists he's not sending. It was just as the director predicted in his introduction. "After they make love," he told us, "when the eagles and vultures attack, you will understand why the eagles and vultures attack."
Pages: 1 2
Tags:
Alan Bagh
,
bad movies
,
Battlefield Earth
,
Birdemic: Shock and Terror
,
cult cinema
,
Ed Wood
,
Edward D. Wood Jr.
,
IFC Center
,
James Nguyen
,
Joan Crawford
,
Manos: The Hands of Fate
,
Moviehead Pictures
,
Notes on Camp
,
Plan 9 From Outer Space
,
Susan Sontag
,
The Room
,
Whitney Moore
---
---
---
Powered by ZergNet
---