Not Another Teen Movie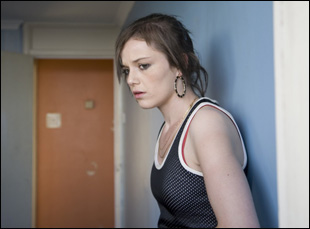 Don't mistake Andrea Arnold's sophomore feature "Fish Tank" for a Taylor Swift song.
Truly, their seduction moves from questionably erotic to downright hot, nearing the precipice of exploitation. Mia's under 16 (the age of legal consent in England) and Connor's closing in on 30 — or older. We should be outraged. We're not. This isn't to say the moment plays like Pia Zadora in "Butterfly" (not that I'm slamming "Butterfly"), but Arnold is so honest with her story and characters, and the actors so adept at revealing subtle, conflicted nuances, that it unfolds like it had to happen. It would be more insulting to Mia had Arnold made her spitfire little heroine the cardboard cutout victim — sagging in the aftermath of statutory rape. Instead, she allows this girl to have a serious crush, to feel lust, to yearn for one bright spot in her otherwise dreary life.
What Connor does is wrong, and he knows it. So much so that he (spoiler alert) will leave their family the very next morning. You actually feel badly for Mia when he leaves. And as she chases after his car, you have to stop yourself to think: Wait a second, what he did was wrong. Why am I feeling like Mia?
That's how powerful and persuasive Arnold is as a director. And Jarvis, a non-actress who was discovered on a subway platform arguing with her boyfriend (which is something like the Ken Loach version of Lana Turner's discovery at the soda fountain), is a revelation, bringing perhaps her own personal anger and poignancy to Mia, never settling on a one-note characterization of angry tough chick or hapless victim or spunky sexy girl. She's none of these things and then, all of these things, and more — she's a real, live teenage girl — full-out outward fury and bursts of happiness, particularly when dancing, and of course, curious with her sexuality.
And yet, as loud as she can holler at it, inside, she's circumspect about her real feelings and especially her place in the world. Walking so aggressively through her shabby, garbage-strewn environment, moving past ugly, depressing architecture and into dank, cheerless rooms where little girls smoke cigarettes and watch bad television on tiny cheap TV's, she's so intent on moving — moving away from all of this — and with Arnold's camera continually following her, we are right there with her.
Even more impressive, we are also, in certain instances, right there with all of the characters. In a scene near the end of the movie, we watch Mia, little sister Tyler and Mom dance to "Life's a Bitch" (the lyrics continue with "and then you die, that's why we get high, cause you never know when you're gonna go") in an empty room, a rare moment when all the girls connect. Starting out lifelessly, Mia and Tyler follow their mother's joyless attempt at cheerfulness almost instinctively, and their dance builds into a moment of near ebullience. If this were a Hollywood movie, if Goldie Hawn were their mother, they'd be singing in their hairbrushes, smiling and laughing and whipping their hair around to "Respect." Here, the girls are actually coming up with a routine, and there's something really sweet and yet, incredibly sad about that –
like they're trying to create order in the midst of attempting to escape.
I said earlier that it's tough for a teenage girl — but in this moment you see how tough it is for all of these girls/women — these generations of teenage girls, past, present and future. For a second, you actually wish they were dancing with a little more wild abandon, whipping their hair around and laughing hysterically — having some fucking fun. And not for our benefit, but for theirs. After all, they're not here to amuse you.
Kim Morgan is our guest critic for the month of January.
"Fish Tank" is now open in New York and will open in limited release on January 29th; it will also be available through video-on-demand starting January 27th.
Pages: 1 2
Tags:
Andrea Arnold
,
Fish Tank
,
Katie Jarvis
,
Kierston Wareing
,
Michael Fassbender
,
Rebecca Griffiths
,
Red Road
---
---
---
Powered by ZergNet
---