Coloring Outside the Lines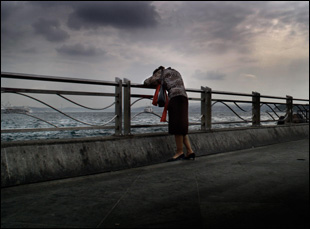 Two genre-defying DVDs hit shelves: Nuri Bilge Ceylan's "Three Monkeys" and the 2003 doc "The Ister."
David Barison and Daniel Ross' "The Ister" (2003) cuts its own genre — if there have been, generally, movies made for almost every tribe of human obsessive, then "The Ister" is a gift to hardcore historical philosophy geeks. It's a fascinating, if often impenetrable, cataract of abstractions scrambled with concreteness, as the two Australian filmmakers limn the resonances between Hölderlin's poetry and Martin Heidegger's ideas about it, and how modern post-structuralist philosophers read the dialogue, as they travel the hundreds of kilometers from the mouth of the Danube (Hölderlin's "Der Ister") in Romania to its source in Germany, and carve out history lessons, from the myth of Prometheus to Heinrich Himmler, along the way.
The discussion begins with the entertaining if abstruse French thinker Bernard Stiegler, outlining the influences of "technics" (a media theory term derived from the Greek for "craft" or contrivance, but in modern usage refers to technology of all sorts) on human identity, interaction and thought.
From there, it's upriver all the way, for more than three Heideggeran hours, interfacing with the ruins and scars of one genocide and totalitarian mess after another, and if the movie coalesces at all, it seems to bemoan the arrival of industry in all its forms, as the Nazi-apologist Heidegger did (despite the Holocaust's industrialization of massacre, a matter the film takes up at length, if not conclusively).
The history is fairly more substantial than the theory, being theory, and because it's the Danube, the history is all cataclysmic, reflected eloquently in the matter of its bridges, built and then destroyed, over and over, from the Romanian site of the Dacian Wars to the NATO-blasted bridges of Vukovar and the Soviet destruction in Hungary.
It's no surprise that philosophical discourse in essence is not particularly hospitable to film, or vice versa, but Barison and Ross have created a massive movie in the form of a physical-travel-plus-abstracted-existentialism dialectic, and if the results don't harbor the bracing sensual charm of a Chris Marker, it's still one of a kind.
"Three Monkeys" (Zeitgeist Films) and "The Ister" (Icarus Films) are now available on DVD.
Pages: 1 2
Tags:
Climates
,
Daniel Ross
,
David Barison
,
Friedrich Holderlin
,
Martin Heidegger
,
neo-noir
,
Nuri Bilge Ceylan
,
The Ister
,
Three Monkeys
---
---
---
Powered by ZergNet
---