It's Time to Meet the Muppets, Again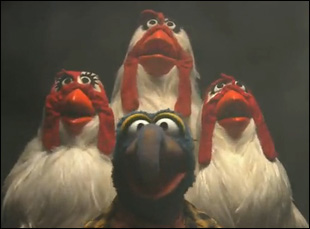 The most sensational, inspirational, celebrational, motivational show reinvents itself for the YouTube age.
"Muppets Bohemian Rhapsody" debuted on the Muppets' newly inaugurated YouTube channel just three weeks ago. But nearly ten million views later, it already feels like a signpost that we'll look back on fondly — a goofy capper to a rotten decade, a bridge to whatever lies ahead, and perhaps a future time capsule, a reminder of what it felt like to be alive at this strange time. It's a pop culture upper in a league with two classic bubblegum chart-toppers that heralded the shift from '60s darkness to '70s hedonism: John Lennon's "Whatever Gets You Through the Night" and the Captain & Tennille's cover of "Love Will Keep Us Together."
There's no world-shattering depth to those songs, just a straightforward reassurance that even though times are tough, as long as we're capable of having fun, things aren't quite as bad as they seem. "Muppets Bohemian Rhapsody" and the other offerings on the Muppets' YouTube channel are likewise (deliberately) simple and upbeat — little rainbows, like the one arcing through the broken soundstage roof at the end of "The Muppet Movie" (1979).
"Ode to Joy" split-screens multiple incarnations of the jumpy dolt Beaker as he vocalizes the most famous section of Beethoven's Ninth Symphony. Beaker's boss, Dr. Bunson Honeydew, returns in "Muppet Labs Experiment 5T832: Ghost Hunt," turning Beaker loose in a haunted house and yammering obliviously while Beaker shrieks at bats, spiders and apparitions. "Cårven Der Pümpkîn" brings back the Swedish chef, who's nearly outsmarted by a couple of gourds. "Skateboarding Dog Gets Served!" spoofs "stupid pet tricks" clips, teaming motor-mouthed rodent scammer Rizzo with Rowlf the Dog, who nearly injures himself doing a dangerous stunt that doesn't get captured on tape because the hungry Rizzo is busy shooting a guy eating a slice of pizza. ("We should go put it on web," Rowlf gasps at the end. "The term is online," Rizzo corrects him.)
Each sketch ends with Statler and Waldorf, the grumpy old men who lobbed insults from the balcony on "The Muppet Show," grousing about the video you just watched, or the internet in general. ("When I was a kid they hadn't invented the web," Statler declares after the skateboarding video. "When you were a kid, they hadn't invented the wheel!" Waldorf replies.) Sam the Eagle fronts a rousing a cappella rendition of "Stars and Stripes Forever"; Gonzo conducts a chorus of chickens clucking Johann Strauss' "Blue Danube Waltz" in "Classical Chicken" and Beaker, the Swedish Chef and Animal sing "Habanera" from Bizet's "Carmen."
The publication of this first batch of videos isn't just an auspicious occasion for Muppet fans; it might mark the exact moment when the characters really, truly, finally came back, and reclaimed their rightful place at the center of American popular culture.
The commonly accepted narrative of the Muppets holds that they lost something when Henson died in 1990 of pneumonia — and that the films and TV projects that followed were good-natured but doomed attempts to recapture the magic (a quest further hampered by the absence of Henson's actual voice, which gave life to Kermit and other central characters). All true. But it's also worth arguing that the Muppets started to drift away from the wellspring of their inspiration as early as the 1980s, when Henson fell in love with long-form storytelling and put sketch comedy on the back burner.
Henson's creations have been around for over four decades, starting out as guest performers (creatures?) on talk and variety series. They found a home on PBS' "Sesame Street" in 1969, broke away to form their own syndicated series, "The Muppet Show" (1976-81), then migrated to theatrical films, starting with 1979′s "The Muppet Movie." There were more movies, plus television spinoffs (including the animated series "Muppet Babies," 1984-1991) and periodic attempts to revive the variety show (1989′s short-lived "The Jim Henson Hour" and "Muppets Tonight," which ran from 1996-98 on ABC and then the Disney Channel).
But with hindsight, it becomes clear that Muppets were at the peak of their powers from the mid-'70s through the early '80s, when the original variety series, set in a big old theater, was still cranking out new episodes — offering a mix of music, slapstick and goofy banter modeled on the American vaudeville and English music hall traditions. They were creatures of TV — specifically grab bag TV, a format descended from vaudeville and the golden age of radio. Grab bag TV encompassed everything from live action music/comedy/variety to talk shows and children's programs such as "Sesame Street."
Henson's creations might have represented the last organic link to that type of entertainment, which was on its way out when "The Muppet Show" debuted. When Kermit interacted on "The Muppet Show" with Ethel Merman, or when master ventriloquist Edgar Bergen made a brief cameo in "The Muppet Movie," one could sense the love and respect in every frame; the Muppets (especially Kermit, Henson's alter ego) were acolytes paying tribute to their aesthetic grandparents. The troupe worked in the old showbiz vein, getting in and getting out in the time it took to set up a premise and work it to its logical (or illogical) conclusion. (An early, classic example is a sketch from a 1967 installment of "The Ed Sullivan Show" in which an intelligent computer explains its purpose to Cookie Monster, who's mainly interested in eating it. The sketch's meticulous build to a literally explosive finale is a marvel of comic architecture on par with the last few minutes of Laurel and Hardy's destruction derby "Big Business.")
A Muppet Christmas Carol
,
Alice Cooper
,
Animal
,
Beaker
,
Ben Vereen
,
Bert and Ernie
,
Bertolt Brecht
,
Bugs Bunny
,
Carol Kane
,
Charlie Chaplin
,
Classical Chicken
,
Cookie Monster
,
Daffy Duck
,
Dark Side of the Moon
,
Disney
,
Edgar Bergen
,
Elmer Fudd
,
Ernie Kovacs
,
Ethel Merman
,
Fozzie Bear
,
Gonzo
,
Habanera
,
jim henson
,
Kermit the Frog
,
Labyrinth
,
Laurel and Hardy
,
Looney Tunes
,
Looney Tunes: Back in Action
,
Miss Piggy
,
Muppet Babies
,
Muppet Labs Experiment 5T832: Ghost Hunt
,
Muppets
,
Muppets Bohemian Rhapsody
,
Muppets Tonight
,
Oscar the Grouch
,
Pepe the King Prawn
,
Pure Imagination
,
Rita Moreno
,
Rowlf the Dog
,
Salvador Dali
,
School's Out
,
Sesame Street
,
Space Jam
,
Statler and Waldorf
,
Swedish chef
,
The Dark Crystal
,
The Ed Sullivan Show
,
The Jim Henson Hour
,
The Muppet Channel
,
The Muppet Movie
,
The Muppets' Wizard of Oz
,
variety shows
,
vaudeville
,
What's Opera Doc?
,
Yosemite Sam
,
You Tube
---
---
---
Powered by ZergNet
---