Nowhere Men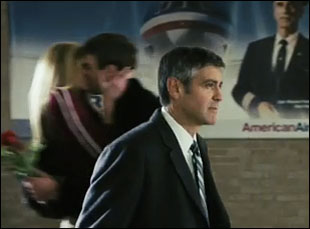 Our critic takes on "Up in the Air," which is "one of the best American films of the year," and "Brothers" and "Everybody's Fine," which aren't.
Remakes are supposed to give filmmakers the opportunity to borrow the best parts of the original while subtly tweaking any areas that might need improvement. But in making "Brothers," director Jim Sheridan and screenwriter David Benioff have slavishly followed the path originally laid down by Danish filmmaker Susanne Bier in her 2004 drama "Brødre."
What might have been a new spin on a relatively chilly piece of filmmaking becomes a carbon copy created for audiences who don't like subtitles — meanwhile, all the flaws of Bier's movie remain completely intact and untouched.
Tobey Maguire and Jake Gyllenhaal star as the titular siblings — an inevitable pairing, really, ever since Columbia Pictures threatened to replace the former with the latter during contract renegotiations for the "Spider-Man" sequels — who are, as is often the case in movies like this, polar opposites. Maguire's Capt. Sam Cahill has dutifully followed in the footsteps of their Vietnam vet dad Hank (Sam Shepard) by joining the Marines, while ne'er-do-well Tommy (Gyllenhaal) has spent several years behind bars after attempting to hold up a local bank.
Tommy gets paroled on the eve of Sam's redeployment to Afghanistan, leading to an awkward welcome home/farewell dinner in which we learn that a) Hank has long considered Tommy a disappointment, b) Sam's two young daughters barely even knew they had an uncle, and c) Sam's capable wife Grace (Natalie Portman) doesn't think much of her brother-in-law.
After Grace gets him out of a jam, Tommy decides to do something productive for once and gets a group of contractor buddies to come over and build a decent kitchen in her house. And if you're thinking that the rebuilt kitchen is going to become the dominant metaphor for Tommy's growth and maturity in Sam's absence, you've just been hit in the head with the first in a series of 2×4′s that Benioff and Sheridan (and Bier before them) have coming your way.
Sam, meanwhile, gets captured by Afghan soldiers after his helicopter crash, yet back home he's been reported dead. Tommy steps up and becomes a more significant presence in his nieces' lives, but even though he and Grace share one spontaneous kiss, they know better than to try to build a relationship or even have sex with each other in the wake of Sam's supposed demise.
Eventually, Sam returns home from Afghanistan, but only after committing a horrifying act of wartime violence, one that eats away at his psyche. (Cue the plate-smashing and cabinet-yanking.) Tommy and Grace both attempt to assure him that they didn't sleep together, but he doesn't seem to believe them. And when Sam's older daughter Isabelle (Bailee Madison, giving a gut-punchingly natural performance for a ten-year-old) tells her increasingly off-kilter dad that she wishes he had stayed dead so Tommy could marry mommy, the soldier's post-traumatic stress runneth over.
"Brothers" has its share of powerful moments, but as a whole it doesn't add up to a drama of much interest. The tension of Sam's suspicion of his wife and his brother never really reaches a head since it's mixed in with his various other coming-home traumas, and the general pace and ambiance of the film is so glacial — again, a carryover from the Scandinavian original — that there's no fire, no spirit here. If all this monotony were being used as a set-up for emotional fireworks, or even to explain the characters' repressed passion, it would be forgivable; as things are, it's just dreary.
Sam's combat horrors and his inability to cope with them once he returns home makes for the most potentially interesting thread of the piece, but in Sheridan's hands, it feels like a warmed-over rehash of "The Deer Hunter" or "Stop-Loss" or any number of better films about soldiers shattered by warfare. As for Tommy, both versions of the film take his big moment — visiting, and making amends to, the bank teller who was so traumatized by his burglary attempt that she couldn't go to work for six months — and leave it offscreen, turning it into an anecdote he shares with Grace. If the rest of the film had any kind of impact, its creators could afford to waste an opportunity like that, but it's the kind of encounter that sounds far more interesting than most of what we do get to see.
The three leads spend most of "Brothers" subdued to the point of catatonia. Gyllenhaal barely conveys a sense of danger or even recklessness about this supposed bad boy, and while Portman embraces her character's blue-collar dowdiness, down to some unfortunate hair choices, I didn't believe her for a second. Maguire attempts to dial down his usual startled-squirrel act, instead going from numb to frothing in 2.8 seconds.
Is it fair to ask what the hell is going on with Jim Sheridan? He's certainly still a sharp producer, with such recent credits as Paul Greengrass' intense "Bloody Sunday" and the criminally underrated prison drama "Borstal Boy," but as a director, he followed the sappy "In America" with the inchoate "Get Rich or Die Tryin'" and now this snoozer. Perhaps a return to the Old Country is in order; Hollywood doesn't seem to be doing this Irishman any favors.
Anna Kendrick
,
Brothers
,
Drew Barrymore
,
Everybody's Fine
,
George Clooney
,
Giuseppe Tornatore
,
Jake Gyllenhaal
,
Jason Reitman
,
Kate Beckinsale
,
Kirk Jones
,
Natalie Portman
,
Robert De Niro
,
Sam Rockwell
,
Susanne Bier
,
Tobey Maguire
,
Up In The Air
,
Vera Farmiga
---
---
---
Powered by ZergNet
---