Empty Calories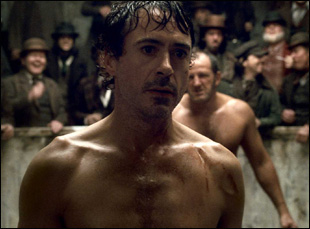 Taking on the brawny new "Sherlock Holmes," the misadventures of Meryl and Alec and a Terry Gilliam fantasy stuck in reverse.
Oh, Terry Gilliam. Your work with Monty Python and your groundbreaking early solo films like "Brazil" and "Time Bandits" and "The Adventures of Baron Munchausen" remain strikingly singular efforts. It's not helping your reputation when you come up with full-on disasters like "The Brothers Grimm" and, now, "The Imaginarium of Doctor Parnassus," a dreadfully dull fantasy that feels like a pale rehash of your best efforts.
Dr. P. (Christopher Plummer) is an immortal who's seen better days, trundling around modern England with a shabby-looking side-show that's actually a portal into an alternate reality that allows people's fondest desires to come true. His daughter Valentina (Lily Cole) is about to turn 16, at which point the poor doctor owes her to the Satanic Mr. Nick (Tom Waits, not nearly as much fun playing the Devil as you would think) as part of a bargain. (Nick made Dr. Parnassus youthful enough to seduce Valentina's mother — although said seduction appears to have taken place in the 1920s, and the movie is set now, and Valentina is a teenager, and… oh, never mind.)
Joining this traveling show is Tony (Heath Ledger), who appears to be an amnesiac on the run from something awful, but no one knows, at first, what that might be. Ledger's tragic death during production was smoothly papered over by Gilliam; in the "real" world, Tony is always Ledger, but inside the Imaginarium, he's played by, alternately, Johnny Depp, Jude Law and Colin Farrell.
There's no shortage of potential here, but Gilliam's flights of fancy are all starting to feel very familiar, and rather dated, to boot. (At one point, some goons are distracted by a Parnassus-created poster that reads: "Join the Fuzz! We love violence!" Groovy, man.)
Once an exciting and daring filmmaker, Gilliam is now making movies that threaten to put their audiences to sleep. Ask your doctor if "Parnassus" is right for you. Better yet, don't.
Alonso Duralde is our guest critic for the month of December.
"Sherlock Holmes" and "It's Complicated" open wide on December 25th; "The Imaginarium of Doctor Parnassus" opens in New York and Los Angeles before expanding wide on January 8th.
Pages: 1 2
Tags:
Alec Baldwin
,
Christopher Plummer
,
Colin Farrell
,
Eddie Marsan
,
Guy Ritchie
,
Heath Ledger
,
It's Complicated
,
John Krasinski
,
Johnny Depp
,
Jude Law
,
Meryl Streep
,
Rachel McAdams
,
Robert Downey Jr.
,
Sherlock Holmes
,
Steve Martin
,
Terry Gilliam
,
The Imaginarium of Doctor Parnassus
,
Tom Waits
---
---
---
Powered by ZergNet
---