Sacha Gervasi Lifts "Anvil"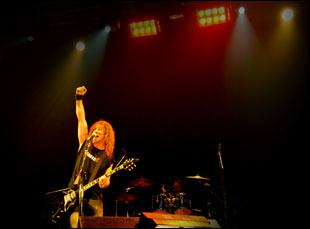 "The Terminal" writer roadied for a Canadian metal band, then made a doc about them 20 years later.
The story of "Anvil! The Story of Anvil" began in a London rock club in the early '80s, where a teenage metal devotee named Sacha Gervasi first saw Canadian rockers Anvil. After the show, Gervasi went backstage and met the band, striking up a friendship with Anvil's lead singer and guitarist Steve "Lips" Kudlow and drummer Robb Reiner. Eventually, Lips and Robb invited the then-15-year-old to be a roadie on their North American tour the next summer. Asked what a documentary on his relationship with the band during that period might have looked like, Gervasi replies, "That would have been amazing. People would not have believed it. My 17th birthday party: Angus Young of AC/DC, Kelly Johnson from Girlschool, Lemmy from Motörhead. I was hanging out with these guys! I was this young precocious public school boy who was into heavy metal."
The precocious public school boy lost touch with the band, but years later, Gervasi looked up Anvil, and discovered that Lips and Robb had continued to record and tour together, despite the fact that rock stardom had eluded them. Eventually, Gervasi became convinced he needed to capture their struggle on film, a project he believed in so strongly that he sunk his own money into it. His documentary follows Lips, Robb and their bandmates on a journey that's both hilarious and touching. Early sequences follow the group on a disastrously Spinal Tap-ish tour of Europe, where they play 10,000-seat venues to audiences of 175, and where, after a particularly bad gig, Robb notes of Anvil's travel woes, "I can sum it up in one word… two words… three words: We don't have good management."
But "Anvil!" is ultimately a genuinely moving tribute to a remarkable friendship between a couple of guys who've never given up their dreams. And after decades in the musical desert, the band — thanks to the escalating buzz surrounding the film — is suddenly in high demand. I spoke with Gervasi just before he, Lips and Robb headed off to a GQ photo shoot; Gervasi was also trying to figure out how to make time for the guys to appear the following morning on "The Opie & Anthony Show." For the director, this was the whole point. "I wanted to do a good thing for these guys," he says. "And it's amazing. When your heart's in the right place, you can't really fail."
The movie begins with metal heavyweights like Metallica's Lars Ulrich and Anthrax's Scott Ian talking about the band. You ask all of them why Anvil didn't make it, and no one seems to have a good answer. I'm wondering why you think they never became superstars.
I think it was a combination of things. Anvil is notoriously too early or too late. In this case, they were too early. In 1982, they came out with "Metal on Metal" and while they were figuring out what direction to go in, they signed with this big manager named David Krebs, who managed AC/DC, The Scorpions and Bon Jovi. He was saying, "You shouldn't be doing the hard stuff like 'Metal on Metal' or '666!' You should be focusing on being like Bon Jovi." The biggest manager in the business is telling them that if they want to be huge, this is what they should be doing. Meanwhile, Metallica, who were listening to [Canadian speed metal bands] Exciter and Anvil, took all of that and went bang! And while Anvil was arguing amongst themselves, I think there was a window that they missed. That's my personal theory.
At a certain point, you lost contact with the band. Was the idea of making a documentary about Anvil what brought you guys back together?
Not at all. In the summer of 2005, Anvil just came into my mind one night. I remember I was at the beach, just hanging out and listening to Metallica and I thought "That sounds so much like Anvil!" And I was like "What happened to them?"
I went online and discovered that the band had never quit. And I was like, "How is it possible that they didn't make it and they didn't kill each other?" I discovered ten albums I'd never heard of and saw photos from a show at the Horseshoe Tavern the week before. I was fascinated.
I wrote to the web site and got an e-mail back from Lips a week later. He was in L.A. It was as if the 20 years went by [snaps fingers] like that. I took him to my mentor, [screenwriter] Steve Zallian's house — he was the one who introduced me to Steven Spielberg [who directed Gervasi's screenplay for "The Terminal"]. I remember sitting in Steve's kitchen and looking through the window at Lips explaining speed metal to Steve's wife Elizabeth. I said to Steve, "He's never given up. Why? Wouldn't you just give up? He still believes he can make it." It just suddenly hit me: It's a movie.
"Anvil!" includes many obvious references to "Spinal Tap." The one big difference — besides the fact that "Spinal Tap" is a fake documentary and yours is real — is that the director of "Spinal Tap" appears onscreen to lead us through the film. Did you ever consider putting yourself into "Anvil!" in a similar role?
I did. In an earlier version, I thought we'd just do "Spinal Tap" and we'll freak people out because it's real. So we did a version where I narrated. But the movie's about these two guys. And by removing myself entirely, it just became obvious that that was what the film was. I just felt like it was an unnecessary filter.
Pages: 1 2
Tags:
Anvil: The Story of Anvil
,
metal
,
Robb Reiner
,
Sacha Gervasi
,
Spinal Tap
,
Steve "Lips" Kudlow
---
---
---
Powered by ZergNet
---