Judd Apatow's David Gordon Green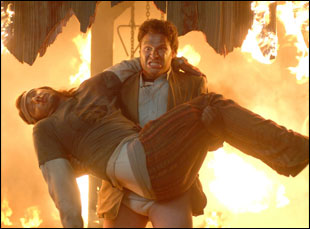 Though critics may be divided over "Pineapple Express" -- at the time of this writing,...
Though critics may be divided over "Pineapple Express" — at the time of this writing, it weighs in at 57% on Rotten Tomatoes' Tomatometer — there is a consensus about at least one aspect of the Judd Apatow-produced stoner comedy: surprise over the choice of David Gordon Green as director. As Roger Ebert puts it in his positive review of the film, Green, "that poet of the cinema, is the last person you'd expect to find directing a male-buddy comedy about two potheads who start a drug war." Based on some of his own past comments, Green might be inclined to agree with him; when promoting his debut film "George Washington" a few years ago, Green told Charlie Rose, "I'm interested in any movie that's not like other movies. Growing up, I wasn't so much a 'Star Wars' or 'Raiders' kind of kid. I was a guy who'd watch 'Walkabout.'"
"Pineapple Express," like most Apatow productions, isn't just like other movies, it's about other movies. Potheads Dale (Seth Rogen) and Saul (James Franco) belong in the tradition of Cheech & Chong and Harold & Kumar. Their comedic misadventures place "Pineapple" somewhere in the vicinity of "Lethal Weapon" or "Tango & Cash" in the way it satirizes the action genre's rigorously observed rules and clichés, while its consistent blend of humor and mayhem puts it in a smaller category with Shane Black's "Kiss Kiss Bang Bang" and Edgar Wright's "Hot Fuzz." Apatow's characters speak to one another in a language of pop culture quotations ("Hey Crockett, how's Tubbs doing?") and, in keeping with that habit, "Pineapple Express" even has a prominent "Star Wars" rancor gag, regardless of Green's childhood viewing habits.
In contrast, the pop culture that informs most of Green's work isn't particularly popular in the mainstream sense; Nicholas Roeg, of course, and also Terrence Malick, whose lyrical visual style was a major influence even before he became a producer of Green's third feature, "Undertow" (2004). That film, like its two predecessors, "George Washington" (2000) and "All the Real Girls" (2003), is set amongst the decaying ruins of America's industrial South (which, as Green himself put it in an interview with The Believer, appears in his trilogy as "a wasteland where man met nature and nature kicked its ass"). Their plots, such as they are, linger in the mind less than the images from that landscape Green deploys in their service: children walking on train tracks that stretch to the horizon, young lovers in a strained embrace in the middle of an empty bowling alley, gold coins drifting down into a watery abyss. Young love is a frequent theme; so are single parents and generational conflicts. So is spitting.
Green's last feature, "Snow Angels," was the first to transplant the director north of the Mason-Dixon line. Initially hired to adapt Stewart O'Nan's novel for another filmmaker, he eventually assumed the director's chair himself and took the project well outside his established comfort zone: heavier on plot and narrative, and set in the snowy climate of Western Pennsylvania. "Snow Angels" contains more humor than Green's previous efforts (which wasn't terribly difficult), but it still ends with a brutal murder-suicide.
So how the hell did Green come to direct a studio comedy with a not-entirely-ironic Huey Lewis & the News theme song? Pragmatically, the credit belongs to Danny McBride, who was Green's neighbor in college and recommended him for the gig after getting cast in "Pineapple Express" himself. Brought on to the set of last year's "Knocked Up" to observe how they do things over in Apatown, Green discovered a like-minded production process that bridged the seemingly disparate styles of movies. Both preferred working with friends and longtime collaborators, both aren't afraid to take chances on unknown or even untrained actors in crucial roles. And both tend to view screenplays as unfinished sketches rather than sacrosanct texts.
Pages: 1 2
Tags:
David Gordon Green
,
James Franco
,
Judd Apatow
,
Pineapple Express
,
Seth Rogen
,
Snow Angels
---
---
---
Powered by ZergNet
---