Carrie and Fred understand that although we have so much in common, we're each so beautifully unique and different. To help us navigate those differences, Portlandia has found an easy and honest way to embrace our special selves in the form of a progressive new traffic system: a specific lane for every kind of driver. It's all in honor of the show's 8th and final season, and it's all presented by Subaru.
Ready to find out who you really are? Match your personality to a lane and hop on the expressway to self-understanding.
Lane 10: Trucks Piled With Junk
Your junk is falling out of your trunk. Shake a tail light, people — this lane is for you.

Lane 33: Twins
You're like a Gemini, but waaaay more pedestrian. Maybe you and a friend just wear the same outfits a lot. Who cares, it's just twinning enough to make you feel special.

Lane 27: Broken Windows
Bad luck follows you around and everyone knows it. Your proverbial seat is always damp from proverbial rain. Is this the universe telling you to swallow your pride? Yes.

Lane 69: Filthy Cars
You're all about convenience. Getting your car washed while you drive is a no-brainer.

Lane 43: Newly Divorced Singles
It's been a while since you've driven alone, and you don't know the rules of the road anymore. What's too fast? What's too slow? Are you sending the right signals? Don't worry, the breakdown lane is nearby if you need it.

Still can't find a lane to match your personality? Check out all the videos here. And see the final season of Portlandia this spring on IFC.
It's the final countdown to Christmas and thanks to IFC's movie marathon all Christmas Eve and Christmas Day, you can revel in classic '80s films AND find inspiration for your last-minute gifts. Here are our recommendations, if you need a head start:
Musical Instrument
Great analog entertainment substitute when you refuse to give your kid the Nintendo Switch they've been drooling over.
Breakfast In Bed
Any significant other or child would appreciate these Uncle Buck-approved flapjacks. Just make sure you're not stuck on clean up duty.
Cocktail Supplies
You'll need them to get through the holidays.
Dance Lessons
So you can learn to shake-shake-shake (unless you know ghosts willing to lend a hand).
Comfy Clothes
With all the holiday meals, there may be some…embigenning.

Get even more great inspiration all Christmas Eve and Day on IFC, and remember…
Most people measure time in minutes, hours, days, years…At IFC, we measure it in sketches. And nothing takes us way (waaaaaay) back like Portlandia sketches. Yes, there's a Portlandia milepost from every season that changed the way we think, behave, and pickle things. In honor of Portlandia's 8th and final season, Subaru presents a few of our favorites.
Put A Bird On It
Portlandia enters the pop-culture lexicon and inspires us to put birds on literally everything.

Colin the Chicken
Who's your chicken, really? Behold the emerging locavore trend captured perfectly to the nth degree.

Dream Of The '90s
This treatise on Portland made it clear that "the dream" was alive and well.

No You Go
We Americans spend most of our lives in cars. Fortunately, there's a Portlandia sketch for every automotive situation.

A-O River!
We learned all our outdoor survival skills from Kath and Dave.

One More Episode
The true birth of binge watching, pre-Netflix. And what you'll do once Season 8 premieres.

Catch up on Portlandia's best moments before the 8th season premieres January 18th on IFC.
Sisters Weekend isn't like other comedy groups. It's filmmaking collaboration between besties Angelo Balassone, Michael Fails and Kat Tadesco, self-described lace-front addicts with great legs who write, direct, design and produce video sketches and cinematic shorts that are so surreally hilarious that they defy categorization. One such short film, Celebrity All-Star, is the newest addition to IFC's Comedy Crib. Here's what they had to say about it in a very personal email interview…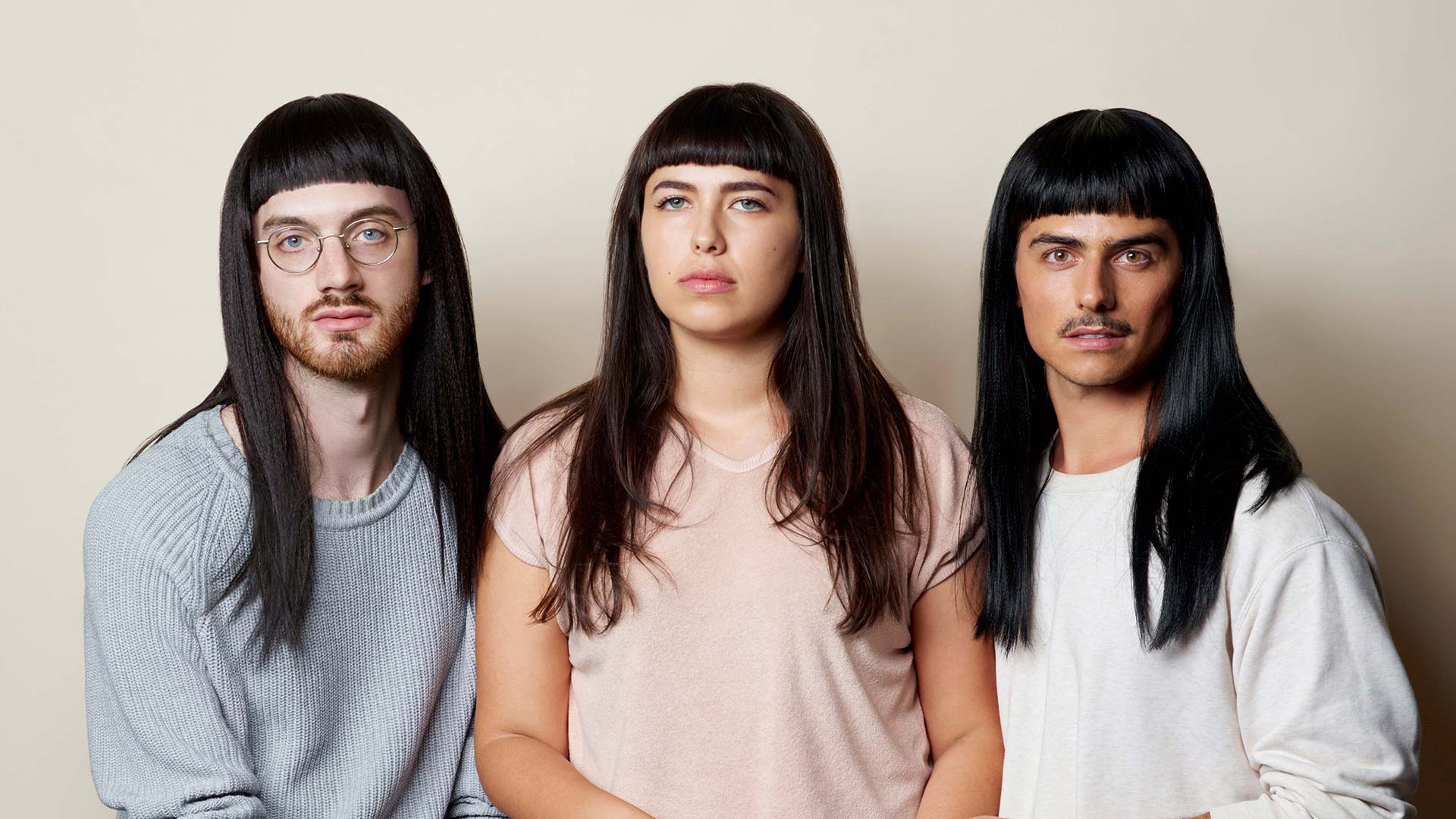 IFC: How would you describe Celebrity All-Star to a fancy network executive you just met in an elevator?

Celebrity All-Star is a short film about an overworked reality TV coordinator struggling to save her one night off after the cast of C-List celebrities she wrangles gets locked out of their hotel rooms.
IFC: How would you describe Celebrity All-Star to a drunk friend of a friend you met in a bar?

Sisters Weekend: It's this short we made for IFC where a talent coordinator named Karen babysits a bunch of weird c-list celebs who are stuck in a hotel bar. It's everyone you hate from reality TV under one roof – and that roof leaks because it's a 2-star hotel. There's a magician, sexy cowboys, and a guy wearing a belt that sucks up his farts.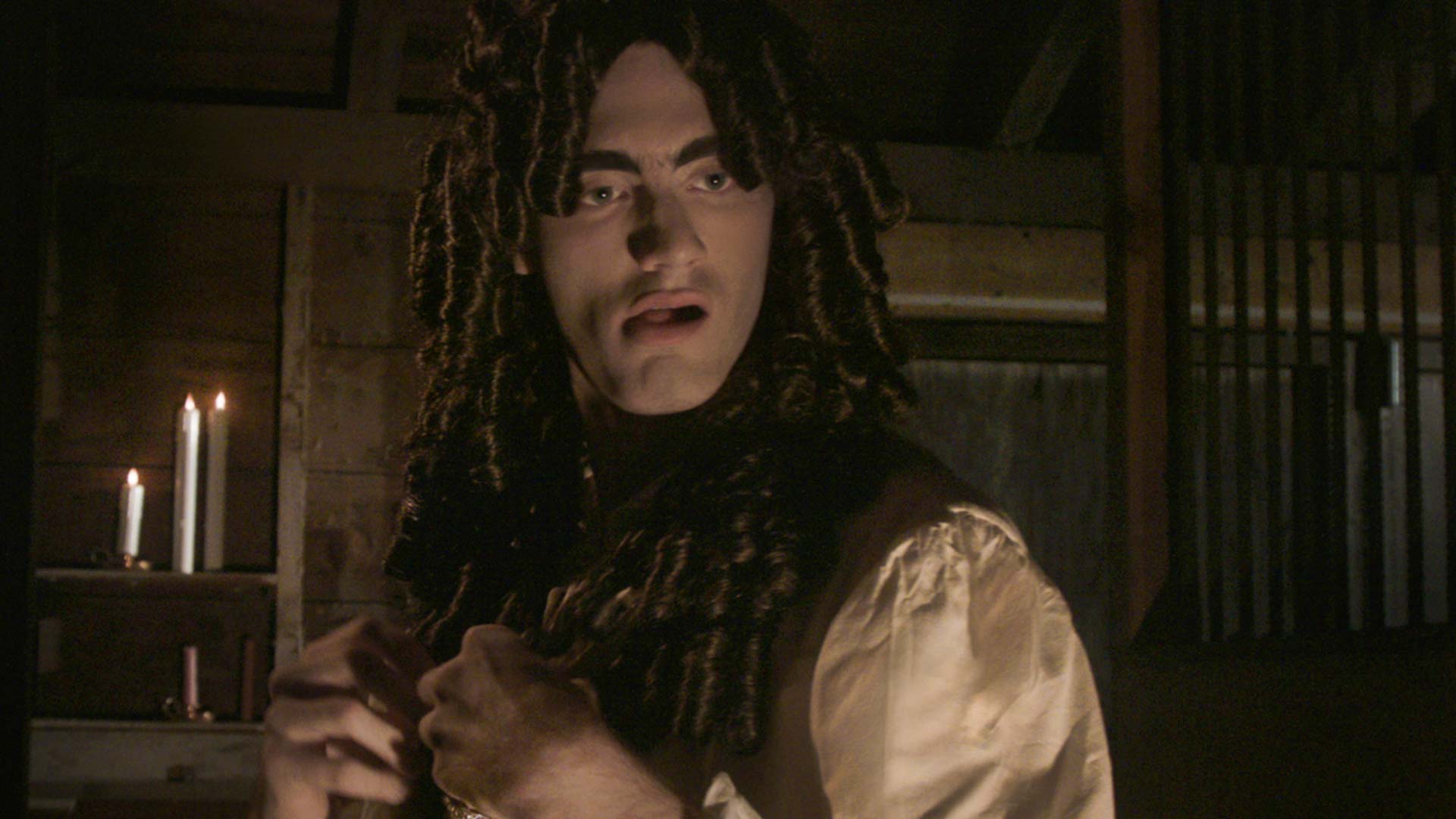 IFC: What was the genesis of Celebrity All-Star?
Celebrity All-Star was born from our love of embarrassing celebrities. We love a good c-lister in need of a paycheck! We were really interested in the canned politeness people give off when forced to mingle with strangers. The backstory we created is that the cast of this reality show called "Celebrity All-Star" is in the middle of a mandatory round of "get to know each other" drinks in the hotel bar when the room keys stop working. Shows like Celebrity Ghost Hunters and of course The Surreal Life were of inspo, but we thought it
was funny to keep it really vague what kind of show they're on, and just focus on everyone's diva antics after the cameras stop rolling.
IFC: Every celebrity in Celebrity All-Star seems familiar. What real-life pop personalities did you look to for inspiration?
Sisters Weekend: Anyone who is trying to plug their branded merch that no one asked for. We love low-rent celebrity. We did, however, directly reference Kylie Jenner's turd-raison lip color for our fictional teen celebutante Gibby Kyle (played by Mary Houlihan).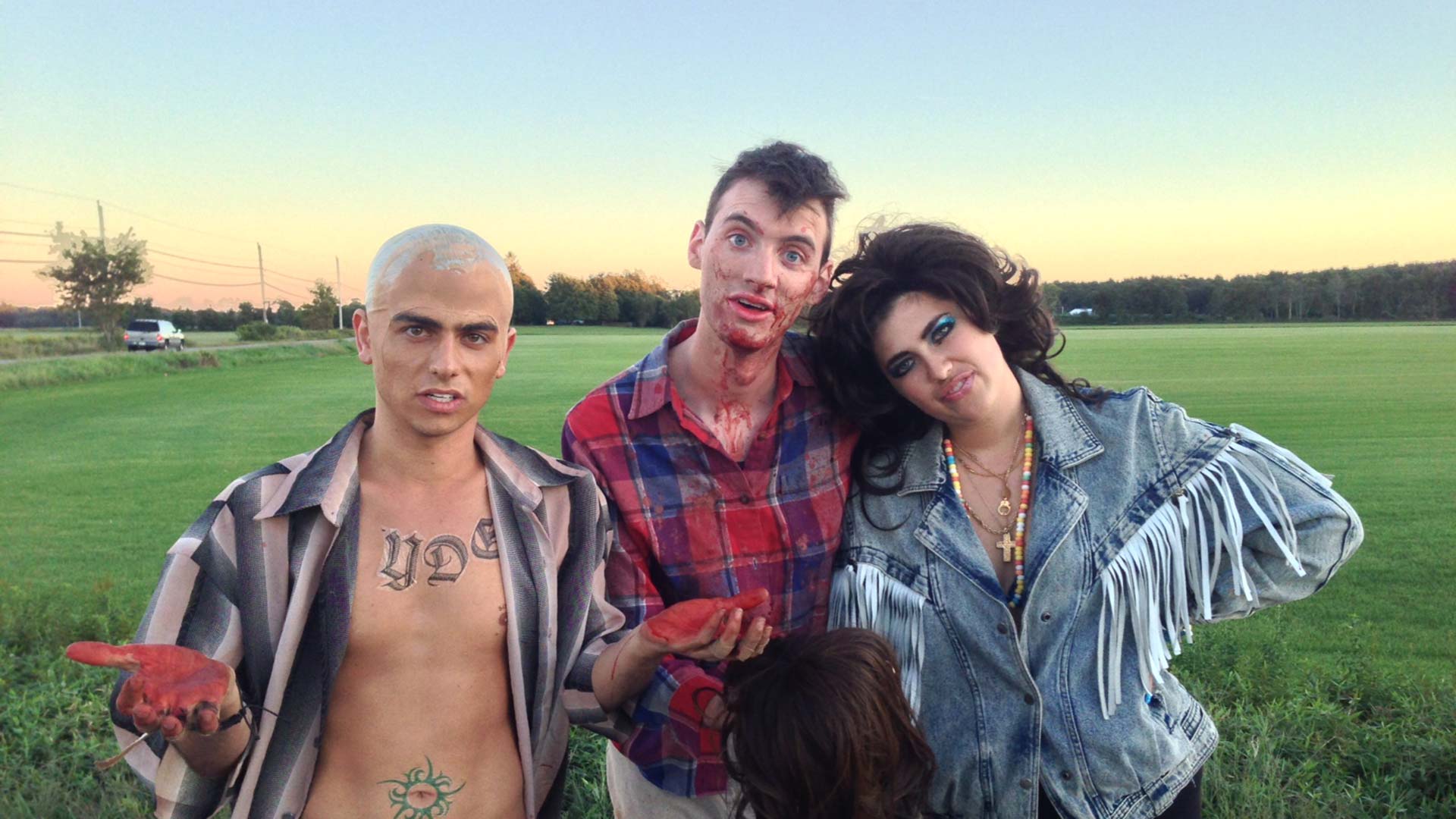 IFC: Celebrity seems disgusting yet desirable. What's your POV? Do you crave it, hate it, or both?
Sisters Weekend: A lot of people chase fame. If you're practical, you'll likely switch to chasing success and if you're smart, you'll hopefully switch to chasing happiness. But also, "We need money. We need hits. Hits bring money, money bring power, power bring fame, fame change the game," Young Thug.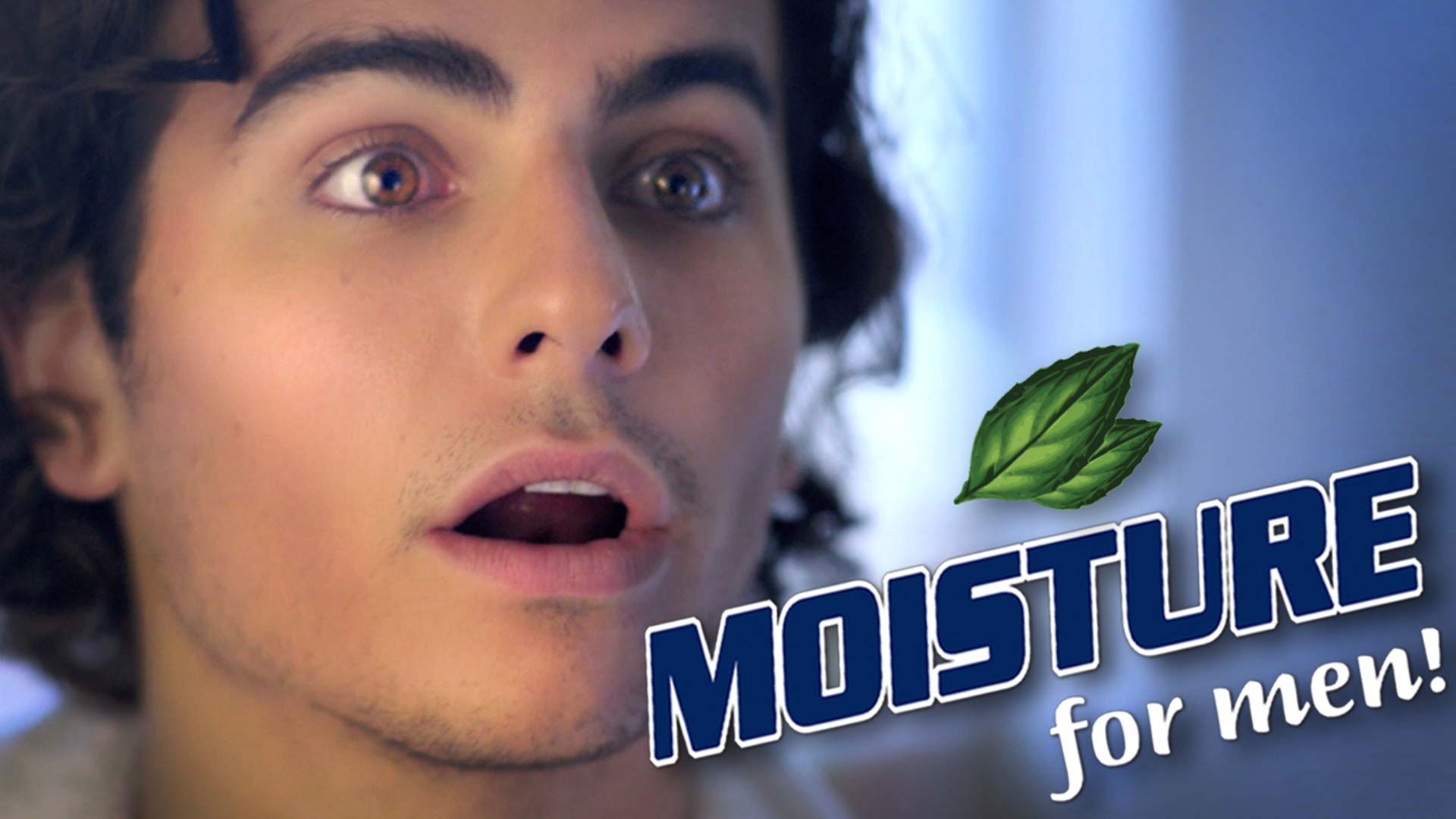 IFC: Who are your comedy idols?
Sisters Weekend: Mike grew up renting "Monty Python" tapes from the library and staying up late to watch 2000's SNL, Kat was super into Andy Kaufman and "Kids In The Hall" in high school, and Angelo was heavily influenced by "Strangers With Candy" and Anna Faris in the Scary Movie franchise, so, our comedy heroes mesh from all over. But, also we idolize a lot of the people we work with in NY-  Lorelei Ramirez, Erin Markey, Mary Houlihan, who are all in the film, Amy Zimmer, Ana Fabrega, Patti Harrison, Sam Taggart. Geniuses! All of Em!
IFC: What's your favorite moment from the film?
Sisters Weekend: I mean…seeing Mary Houlihan scream at an insane Pomeranian on an iPad is pretty great.
See Sisters Weekend right now on IFC's Comedy Crib

Baroness von Sketch Show is snowballing as people have taken note of its subtle and not-so-subtle skewering of everyday life. The New York Times, W Magazine, and Vogue have heaped on the praise, but IFC had a few more probing questions…
IFC: To varying degrees, your sketches are simply scripted examples of things that actually happen. What makes real life so messed up?
Aurora: Hubris, Ego and Selfish Desires and lack of empathy.
Carolyn: That we're trapped together in the 3rd Dimension.
Jenn: 1. Other people 2. Other people's problems 3. Probably something I did.
IFC: A lot of people I know have watched this show and realized, "Dear god, that's me." or "Dear god, that's true." Why do people have their blinders on?
Aurora: Because most people when you're in the middle of a situation, you don't have the perspective to step back and see yourself because you're caught up in the moment. That's the job of comedians is to step back and have a self-awareness about these things, not only saying "You're doing this," but also, "You're not the only one doing this." It's a delicate balance of making people feel uncomfortable and comforting them at the same time.
IFC: Unlike a lot of popular sketch comedy, your sketches often focus more on group dynamics vs iconic individual characters. Why do you think that is and why is it important?
Meredith: We consider the show to be more based around human dynamics, not so much characters. If anything we're more attracted to the energy created by people interacting.
Jenn: So much of life is spent trying to work it out with other people, whether it's at work, at home, trying to commute to work, or even on Facebook it's pretty hard to escape the group.
IFC: Are there any comedians out there that you feel are just nailing it?
Aurora: I love Key and Peele. I know that their show is done and I'm in denial about it, but they are amazing because there were many times that I would imagine that Keegan Michael Key was in the scene while writing. If I could picture him saying it, I knew it would work. I also kind of have a crush on Jordan Peele and his performance in Big Mouth. Maya Rudolph also just makes everything amazing. Her puberty demon on Big Mouth is flawless. She did an ad for 7th generation tampons that my son, my husband and myself were singing around the house for weeks. If I could even get anything close to her career, I would be happy. I'm also back in love with Rick and Morty. I don't know if I have a crush on Justin Roiland, I just really love Rick (maybe even more than Morty). I don't have a crush on Jerry, the dad, but I have a crush on Chris Parnell because he's so good at being Jerry.
Jenn: I LOVE ISSA RAE!
IFC: If you could go back in time and cast yourselves in any sitcom, which would it be and how would it change?
Carolyn: I'd go back in time and cast us in The Partridge Family.  We'd make an excellent family band. We'd have a laugh, break into song and wear ruffled blouses with velvet jackets.  And of course travel to all our gigs on a Mondrian bus. I feel really confident about this choice.
Meredith: Electric Mayhem from The Muppet Show. It wouldn't change, they were simply perfect, except… maybe a few more vaginas in the band.
Binge the entire first and second seasons of Baroness von Sketch Show now on IFC.com and the IFC app.
Brothers-in-law Kevin Barker and Ben Miller have just made the mother of all Comedy Crib series, in the sense that their Comedy Crib series is a big deal and features a hot mom. Animated, funny, and full of horrible bacteria, the series juxtaposes timeless teen dilemmas and gut-busting GI infections to create a bite-sized narrative that's both sketchy and captivating. The two sat down, possibly in the same house, to answer some questions for us about the series. Let's dig in….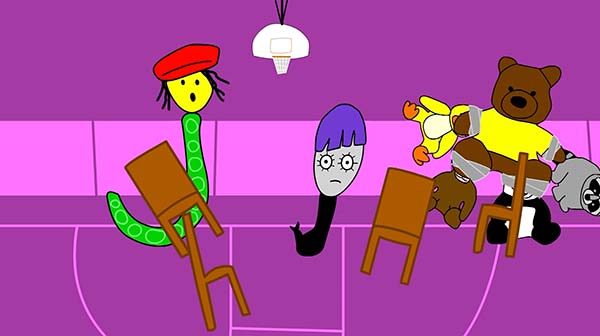 IFC: How would you describe E.Coli High to a fancy network executive you just met in an elevator?
BEN: Hi ummm uhh hi ok well its like umm (gets really nervous and blows it)…
KB: It's like the Super Bowl meets the Oscars.
IFC: How would you describe E.Coli High to a drunk friend of a friend you met in a bar?
BEN: Oh wow, she's really cute isn't she? I'd definitely blow that too.
KB: It's a cartoon that is happening inside your stomach RIGHT NOW, that's why you feel like you need to throw up.
IFC: What was the genesis of E.Coli High?
KB: I had the idea for years, and when Ben (my brother-in-law, who is a special needs teacher in Philly) began drawing hilarious comics, I recruited him to design characters, animate the series, and do some writing. I'm glad I did, because Ben rules!
BEN: Kevin told me about it in a park and I was like yeah that's a pretty good idea, but I was just being nice. I thought it was dumb at the time.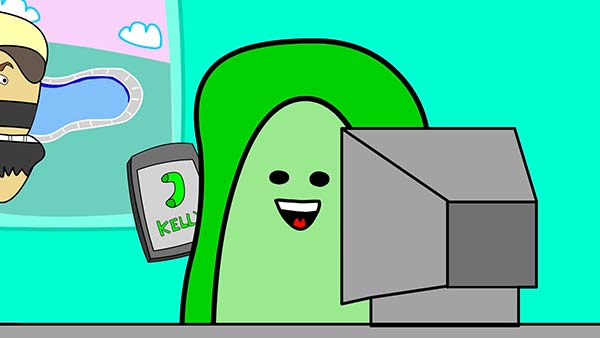 IFC: What makes going to proms and dating moms such timeless and oddly-relatable subject matter?
BEN: Since the dawn of time everyone has had at least one friend with a hot mom. It is physically impossible to not at least make a comment about that hot mom.
KB: Who among us hasn't dated their friend's mom and levitated tables at a prom?
IFC: Why do you think the world is ready for this series?
BEN: There's a lot of content now. I don't think anyone will even notice, but it'd be cool if they did.
KB: A show about talking food poisoning bacteria is basically the same as just watching the news these days TBH.
Watch E.Coli High below and discover more NYTVF selections from years past on IFC's Comedy Crib.
We've been fans of Funny or Die since we first met The Landlord. That enduring love makes it more than logical, then, that IFC is totally cool with FOD hijacking the airwaves every Saturday night. Yes, that's happening.
The appropriately titled FOD TV looks like something pulled from public access television in the nineties. Like lo-fi broken-antenna reception and warped VHS tapes. Equal parts WTF and UHF.
Get ready for characters including The Shirtless Painter, Long-Haired Businessmen, and Pigeon Man. They're aptly named, but for a better sense of what's in store, here's a taste of ASMR with Kelly Whispers:
Watch FOD TV every Saturday night during IFC's regularly scheduled movies.
Okay, so you missed the entire first season of Stan Against Evil. There's no shame in that, per se. But here's the thing: Season 2 is just around the corner and you don't want to lag behind. After all, Season 1 had some critical character development, not to mention countless plot twists, and a breathless finale cliffhanger that's been begging for resolution since last fall. It also had this:
The good news is that you can catch up right now on Hulu. Phew. But if you aren't streaming yet, here's a basic primer…
Willards Mill Is Evil
Stan spent his whole career as sheriff oblivious to the fact that his town has a nasty curse. Mostly because his recently-deceased wife was secretly killing demons and keeping Stan alive.

Demons Really Want To Kill Stan
The curse on Willards Mill stipulates that damned souls must hunt and kill each and every town sheriff, or "constable." Oh, and these demons are shockingly creative.
They Also Want To Kill Evie
Why? Because Evie's a sheriff too, and the curse on Willard's Mill doesn't have a "one at a time" clause. Bummer, Evie.

Stan and Evie Must Work Together
Beating the curse will take two, baby, but that's easier said than done because Stan doesn't always seem to give a damn. Damn!
Beware of Goats
It goes without saying for anyone who's seen the show: If you know that ancient evil wants to kill you, be wary of anything that has cloven feet.
Season 2 Is Lurking
Scary new things are slouching towards Willards Mill. An impending darkness descending on Stan, Evie and their cohort – eviler evil, more demony demons, and whatnot. And if Stan wants to survive, he'll have to get even Stanlier.

Stan Against Evil Season 1 is now streaming right now on Hulu.
Unless you stopped paying attention to the world at large in 1989, you are of course aware that the '90s are having their pop cultural second coming. Nobody is more acutely aware of this than Dara Katz and Betsy Kenney, two comedians who met doing improv comedy and have just made their Comedy Crib debut with the hilarious '90s TV throwback series, The Place We Live.
IFC: How would you describe "The Place We Live" to a fancy network executive you just met in an elevator?
Dara: It's everything you loved–or loved to hate—from Melrose Place and 90210 but condensed to five minutes, funny (on purpose) and totally absurd.
IFC: How would you describe "The Place We Live" to a drunk friend of a friend you met in a bar?

Betsy: "Hey Todd, why don't you have a sip of water. Also, I think you'll love The Place We Live because everyone has issues…just like you, Todd."
IFC: When you were living through the '90s, did you think it was television's golden age or the pop culture apocalypse?

Betsy: I wasn't sure I knew what it was, I just knew I loved it!

Dara: Same. Was just happy that my parents let me watch. But looking back, the '90s honored The Teen. And for that, it's the golden age of pop culture. 
IFC: Which '90s shows did you mine for the series, and why?
Betsy: Melrose and 90210 for the most part. If you watch an episode of either of those shows you'll see they're a comedic gold mine. In one single episode, they cover serious crimes, drug problems, sex and working in a law firm and/or gallery, all while being young, hot and skinny.

Dara: And almost any series we were watching in the '90s, Full House, Saved By the Bell, My So Called Life has very similar themes, archetypes and really stupid-intense drama. We took from a lot of places. 
IFC: How would you describe each of the show's characters in terms of their '90s TV stereotype?
Dara: Autumn (Sunita Mani) is the femme fatale. Robin (Dara Katz) is the book worm (because she wears glasses). Candace (Betsy Kenney) is Corey's twin and gives great advice and has really great hair. Corey (Casey Jost) is the boy next door/popular guy. Candace and Corey's parents decided to live in a car so the gang can live in their house. 
Lee (Jonathan Braylock) is the jock.
IFC: Why do you think the world is ready for this series?

Dara: Because everyone's feeling major '90s nostalgia right now, and this is that, on steroids while also being a totally new, silly thing.
Delight in the whole season of The Place We Live right now on IFC's Comedy Crib. It'll take you back in all the right ways.
Jenny Jaffe has a lot going on: She's writing for Disney's upcoming Big Hero 6: The Series, developing comedy projects with pals at Devastator Press, and she's straddling the line between S&M and OCD as the creator and star of the sexyish new series Neurotica, which has just made its debut on IFC's Comedy Crib. Jenny gave us some extremely intimate insight into what makes Neurotica (safely) sizzle…
IFC: How would you describe Neurotica to a fancy network executive you met in an elevator?
Jenny: Neurotica is about a plucky Dominatrix with OCD trying to save her small-town dungeon.
IFC: How would you describe Neurotica to a drunk friend of a friend you met in a bar?
Jenny: Neurotica is about a plucky Dominatrix with OCD trying to save her small-town dungeon. You're great. We should get coffee sometime. I'm not just saying that. I know other people just say that sometimes but I really feel like we're going to be friends, you know? Here, what's your number, I'll call you so you can have my number!
IFC: What's your comedy origin story?
Jenny: Since I was a kid I've dealt with severe OCD and anxiety. Comedy has always been one of the ways I've dealt with that. I honestly just want to help make people feel happy for a few minutes at a time.
IFC: What was the genesis of Neurotica?
Jenny: I'm pretty sure it was a title-first situation. I was coming up with ideas to pitch to a production company a million years ago (this isn't hyperbole; I am VERY old) and just wrote down "Neurotica"; then it just sort of appeared fully formed. "Neurotica? Oh it's an over-the-top romantic comedy about a Dominatrix with OCD, of course." And that just happened to hit the buttons of everything I'm fascinated by.
IFC: How would you describe Ivy?
Jenny: Ivy is everything I love in a comedy character – she's tenacious, she's confident, she's sweet, she's a big wonderful weirdo.
IFC: How would Ivy's clientele describe her?
Jenny:  Open-minded, caring, excellent aim.
IFC: Why don't more small towns have local dungeons?
Jenny: How do you know they don't?
IFC: What are the pros and cons of joining a chain mega dungeon?
Jenny: You can use any of their locations but you'll always forget you have a membership and in a year you'll be like "jeez why won't they let me just cancel?"
IFC: Mouths are gross! Why is that?
Jenny: If you had never seen a mouth before and I was like "it's a wet flesh cave with sharp parts that lives in your face", it would sound like Cronenberg-ian body horror. All body parts are horrifying. I'm kind of rooting for the singularity, I'd feel way better if I was just a consciousness in a cloud.
See the whole season of Neurotica right now on IFC's Comedy Crib.