10 Reasons Why Rocky IV Is the Ultimate Rocky Movie
Catch an all-day Rocky movie marathon this Friday, September 30th on IFC.
Posted by Amber Petty on
Photo Credit: United Artists/Everett Collection
Sure, most people love the first Rocky for its heart, gripping boxing scenes and the classic training montage. Or, you might love Creed for being both a return-to-form and a new exploration of the Rocky mythology. Maybe the thrill of seeing Mr. T and Hulk Hogan in the same movie makes Rocky III your top pick. Well, sorry, you're wrong: Rocky IV is the greatest of all the "Italian Stallion"'s movies.
Before you watch the all-day Rocky movie marathon this Friday, September 30th on IFC (with Rocky IV airing at 8P as part of Rotten Fridays), check out a few reasons to appreciate the fourth installment as the king of the series.
1. The Greatest Opening Ever
How many openings are able to sum up the entire conflict of the film in less than a minute and without a single line of dialogue? And how many of those movies have exploding boxing gloves? Just try to watch the opening sequence above and not be completely psyched for the pumped-up flick to come.
---
2. Montages!
We all know that the best part of any sports movie is the montage, and Rocky IV doesn't give you one measly montage. There's a recap of the previous films montage, a getting to Russia Montage, two training montages and an ending fight montage. That's five montages! There's probably a montage of montages snuck in there, too.
---
3. There's a Full James Brown Musical Number
This movie is so packed with memorable moments, it's easy to forget one of the first things that happens in the film: Apollo comes out to fight Drago dressed as a shirtless Uncle Sam, while James Brown and a full band play "Living in America." To drive home the number's patriotism, there are dancers in tuxedos and top hats, weird unitards and bowler caps, and bedazzled showgirls with headpieces for miles. Oh, and don't forget the giant tentacled dragon statue on the stage. This is how every boxing match should start. Heck, this is how we always want to enter a room.
---
4. The Soundtrack
The Rocky IV soundtrack doesn't just feature James Brown — it has rock anthems galore, all of which make you immediately want to hit the gym. From "Heart's on Fire" by John Cafferty and the Beaver Brown Band to "Sweetest Victory" by Touch to multiple Survivor jams, you'll get pumped and stay pumped. Even the instrumental score rocks! Sure, sometimes it sounds like it was made on a kids Casio, but this soundtrack never quits and — to quote Robert Tepper — never takes the easy way out.
---
5. Abs!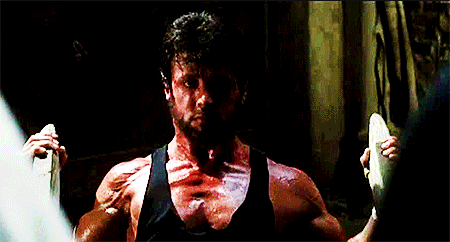 Every Rocky movie shows off Stallone's incredible physique, but Rocky IV really ups the game. Not only do we get Dolph Lundgren mostly shirtless looking like a man machine, but we get a wide variety of scenes of Stallone doing impossible tasks. Stallone's crazy dragon fly crunches, aka a thing no human should be able to do, automatically take this movie to the top.
---
6. Two words: Ivan Drago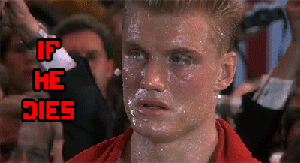 United Artists
Not only does Rocky IV explore the global conflict between the US and the Soviet Union, but it encapsulates all of our fears of the Cold War in one perfect villain. Ivan Drago only trains with machines and science and looks like he stepped out of an Aryan Nations recruitment poster. He also only responds in short, cold phrases like "If he dies, he dies," or "I must break you." There's never been a villain who we so clearly want to get the crap beat out of than Ivan Drago.
---
7. Rocky Makes Chores Look Badass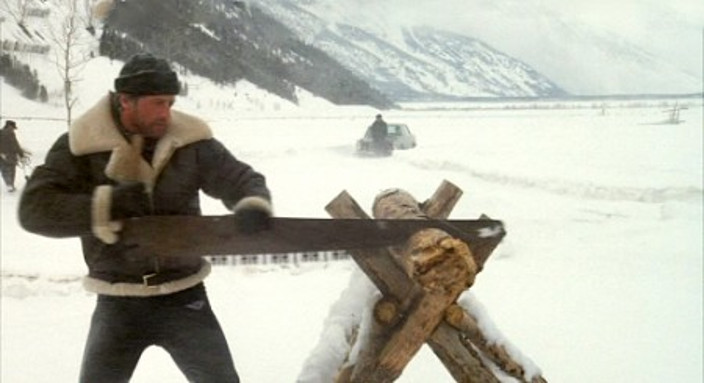 United Artists
Rocky doesn't need to be hooked up to machines to become the perfect fighter. All he needs are huge tires and some outdoor chores to do. No one's ever looked cooler chopping wood and using tractor parts. Half of his training is lifting an old wagon, probably to fix a broken axle. If anything, this film inspires us to take care of that gardening work we've been neglecting.
---
8. Rocky's Beard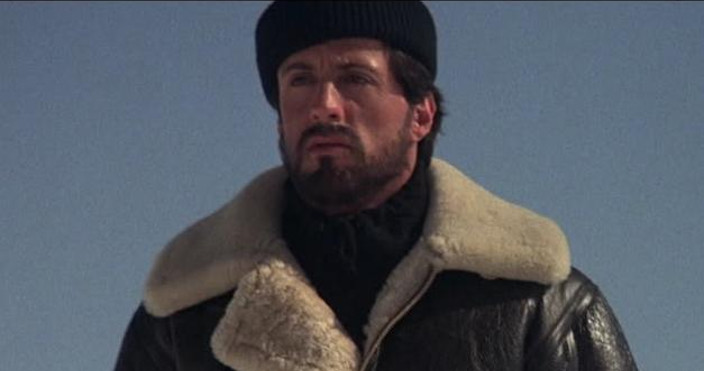 Stallone's beard game is truly on point in Rocky IV. And this isn't some "I forgot to shave, here's a little stubble" look. No, we get full out, lumberjack-style beard action. Does any other Rocky movie have our hero looking like an old Russian aristocrat? Another point for Rocky IV.
---
9. There's a robot!
Again, there's so much to Rocky IV, you probably forgot about the robot. Well, Rocky has some money now and he's not going to spend it on frivolous things for himself. He's going to buy Paulie a robot! The best part of this scene is how truly disturbed Paulie is by this new technology until he gives it a sexy lady voice.
---
10. Rocky Ends the Cold War
If you're still not convinced that Rocky IV is the greatest, answer this question: Does any other Rocky movie bring peace between the US and Russia?
By the end of the film, Rocky rises up to beat the seemingly undefeatable Drago. He fights so well, that even the Russians begin to appreciate his skills. Then, instead of using his victory to prove America's superiority, he gives a rousing speech of "If I can change and you can change, everybody can change!" The whole crowd goes wild, including all of the Russian government, who we assume give up Communism immediately based solely on Rocky's words. Stallone's call for international reconciliation through brutal fighting and a variety of montages makes this if not one of the greatest films of all time, certainly the greatest Rocky of them all.
Catch the "Too Rotten to Miss" movie Rocky IV this Friday at 8P on IFC.