10 Reasons Why Die Hard Is the Best Action Movie Ever Made
Catch Die Hard as part of IFC's July 4th action movie weekend.
Posted by Brian Steele on
Photo Credit: 20th Century Fox
Forget all the sequels, which have morphed from carbon copies of the original to blue tinged exercises in bland action. For our money, the original Die Hard is the greatest action movie ever made. With Die Hard and Die Hard 2 airing as part of IFC's Independence Day weekend action extravaganza, we thought we'd look back at the original '80s classic, and figure out once and for all why it was the best of the best. So welcome to the party, pal, let's do this!
10. The Title Kicks Ass/Makes No Sense.

20th Century Fox
Here's a fun fact: Die Hard is based on a novel called Nothing Lasts Forever by the awesomely named Roderick Thorp. Here's another fun fact: Nothing Lasts Forever is a terrible title. Seriously, it sounds like a late period Sean Connery Bond film that would've costarred, say, Daryl Hannah.
So clearly the title had to be changed, which gives us Die Hard, aka the perfect movie title. But what does it actually mean? Is it because it's "hard" to make John McClane "die," much like it was "hard to kill" Steven Seagal in the 1990 action thriller of the same name? The phrase "die hard" usually means someone who cannot be swayed from a point of view, no matter the evidence. So…was John McClane unwavering in his belief that he was a badass? If that's the case, he was right, but it's still sort of confusing. Whatever the title means, it is amazing, and as a die hard fan of Die Hard, we can't picture this movie called anything else.
---
9. Every Character is a Classic. Even Argyle the limo driver.

20th Century Fox
How many movies have such a memorable collection of side characters? From '80s douchebag master William Atherton's sleazy newscaster, to doomed cokehead Harry Ellis, from limo driver Argyle, to Special Agents Johnson and Johnson, no matter the part, every character makes an impression. Has there ever been a more delightfully Eurotrash collection of random bad guys than Hans Gruber's killer crew? Heck, even Nakatomi Plaza has a distinct personality of its own. Just think about the fact that this movie has the bad guys from Ghostbusters 2 and The Goonies AND The Breakfast Club all in supporting roles, and we haven't even gotten to Reginald VelJohnson, aka lovable dad Carl Winslow from Family Matters, playing his first of many cop roles here.
---
8. It birthed the entire "Die Hard on a…" genre.

20th Century Fox
You have to wonder how the filmmakers originally pitched this movie. Every action movie that followed simply used it as a reference point. Speed is Die Hard on a bus. Cliffhanger is Die Hard on a cliff. Snakes on a Plane is Die Hard on a plane with snakes. How easy it would have been if they could have just pitched Die Hard as Die Hard in a…building? The fact that countless other movies got their green light by aping the premise of this movie speaks to how brilliant it was. All you need is a location, a bunch of bad guys taking it over, and one guy crazy enough to try to stop them. It's the perfect action movie premise, with no frills — just the ultimate engine for righteous violence.
---
7. Yippee ki yay, mother…

20th Century Fox
Has a movie ever had a more memorable collection of one-liners than Die Hard? "Welcome to the party, pal!" "Now I have a machine gun. Ho-ho-ho." "Nine million terrorists in the world and I gotta kill one with feet smaller than my sister." "Come out to the coast, we'll get together, have a few laughs." "Yippi-ki-yay, motherf—er." While Arnold Schwarzenegger and Jean-Claude Van Damme were stuck delivering cheesy puns as they dispatched forgettable villains, John McClane and Hans Gruber's lines always felt genuine, hilarious and cool at the same time. This was a real world, filled with people who also happen to be badass mofos.
---
6. The Action!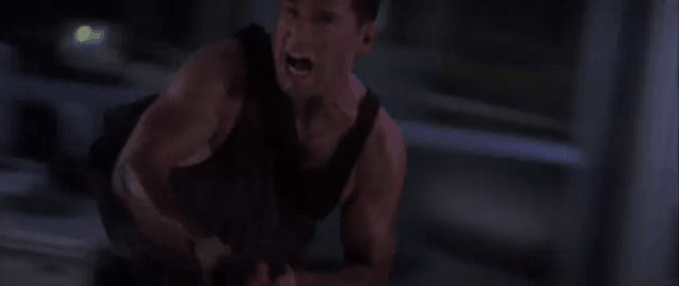 20th Century Fox
Holy Jamoley, the action! How a movie can have such over-the-top action, and yet keep it grounded, is a miracle of writing and directing. Die Hard still has some of the best action ever committed to film, without the help of CGI, superheroes or karate kicking on wires. Characters get hurt here, and when they die, you feel it. McClane needing a pair of shoes becomes a major plot point when he's forced to run across shards of glass, and then has to spend a scene picking the remnants out of his shredded feet. By the time we reach the explosive finale, the gritty, grounded action had set a highwater mark that has yet to be topped.
---
5. Hans Gruber is a bad guy with style…

20th Century Fox
There's never been a better action movie villain than Hans Gruber, the slick European terrorist who reads Time Magazine and is an expert on both hostage taking and tailored suits. Amazingly, Die Hard is Alan Rickman's first film, having made a name for himself in theater and television. Bringing a certain intelligence and class to what could have been a typical heavy, Rickman created a stone cold killer with ice in his veins. Nothing could fluster him, not even John McClane. Even his final plummet to his death is a moment of pure action movie style and grace. Speaking of…
---
4. …Who dies in spectacular fashion.

20th Century Fox
Spoiler alert, but Hans Gruber dies. I know, shocker. But while action movies too often look for the most overblown way to take down their villains (like when Travolta took a missile to the stomach in Broken Arrow), Die Hard went the other way. After building up a complicated rivalry between Gruber and McClane throughout the movie, John had a chance to save this killer's life. Instead, he let gravity take its course. Great villains deserve great deaths, and none are more memorable than the panicked look Alan Rickman gives as he takes one last look at Nakatomi Plaza from the outside.
---
3. It has a simple premise filled with twists and turns.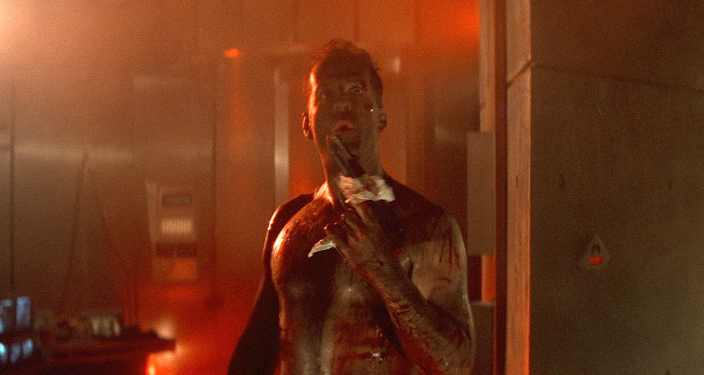 20th Century Fox
For a movie with such a straight-ahead, good vs. bad plot, the movie has a remarkable number of twists and turns. A brutal scene in which McClane is forced to sacrifice one egotistical cokehead in the name of saving countless other lives. Hans Gruber pretending to be a goofy American businessman in over his head, talking McClane into giving him a gun, only to realize that the NYPD cop was one step ahead of him the whole time. The fact that Gruber was playing terrorist, while actually there to pull of a heist. Even the ending, with McClane seemingly losing, only to pull a Christmas surprise off his back just in time. Ho, ho, ho, indeed. This movie, with its silly premise and overblown action, has no business being as clever as it is.
---
2. John McClane is all of us having the worst day ever.

20th Century Fox
It was the era of the steroid freaks as supermen. Arnold. Sly. Action heroes were more than human, thanks to a gym membership and a syringe. Thankfully, Die Hard zigged when everyone else zagged, giving us a relatable protagonist who bled when you pricked him, and always felt like he'd rather be taking a nap than having to deal with this crap. Bruce Willis, with his rapidly retreating hairline and sarcastic New York attitude, was someone we could relate to.
---
1. It's a freakin' Christmas movie!

20th Century Fox
It's Christmas! Who doesn't love Christmas? While most action movies take place in a sort of all purpose season that allows for lots of rippling muscles and skin to be seen, Die Hard goes all in on Christmas, with our favorite jingles, and some Yuletide joy. You can keep your Miracle on 34th Street and A Christmas Story — we want a little blood and badassery with our eggnog.